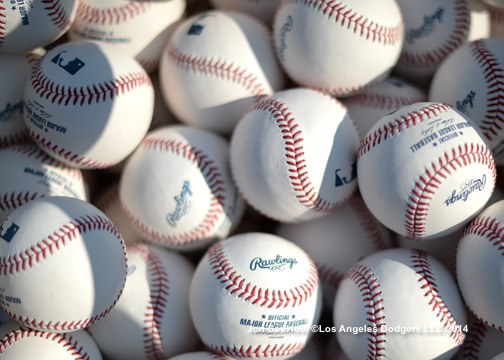 For more Tuesday highlights from Jon SooHoo, visit LA Photog Blog.
By Jon Weisman
Man, the Dodgers have packed a lot of wild baseball into this week, and we're still two days away from this weekend's series at San Francisco. Here are some off-the-cuff thoughts about the past three nights.
* * *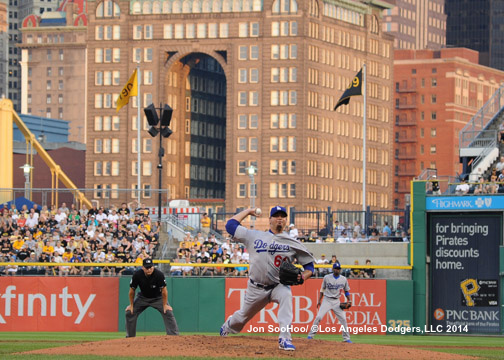 Josh Beckett had a rough return from the disabled list in Tuesday's 12-7 loss at Pittsburgh, allowing four runs in 3 2/3 innings, including three doubles and two home runs. He hasn't had this rough an outing since … the last time he came off the disabled list, on April 9, when he allowed four earned runs in four innings, including two doubles and one home run.
Beckett then went on to have a 1.99 ERA in his next 99 2/3 innings. So maybe let's give him a bit longer before we raise the white flag on his season.
I'm not much on treating correlation as causation, and I'm 100 percent against the designated hitter. But in Beckett's case, he might be getting on base too much for his own good. So far in July, Beckett has come to the plate seven times. He has three doubles, a walk and reached second base on an error, and by his own admission seemed to aggravate his hip condition running to third base in his last game before the All-Star Break.
* * *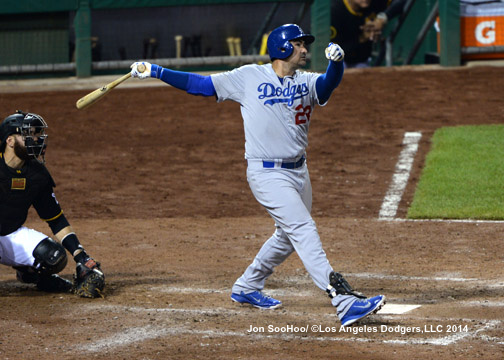 Adrian Gonzalez hit his 250th career homer Tuesday, as Lee Sinins notes at Gammons Daily, and his first since July 1. Gonzalez has been one of the victims of an increased use of defensive shifts by MLB teams in 2014, a trend so dramatic that Sports Illustrated's Tom Verducci is proposing rules to ban them. He makes a lengthy case, but I disagree strongly with the idea that teams should be penalized for innovation.
The response, essentially, should be for batters to counter-innovate.We've seen Gonzalez do that a bit in recent weeks, by trying to go the other way, though it's reasonable to wonder whether the challenge of the shift has affected Gonzalez's power production. That being said, Gonzalez has been strong overall since the All-Star Game, going 8 for 19 with two doubles, the home run, three walks and a sacrifice fly, for a 1.162 OPS.
* * *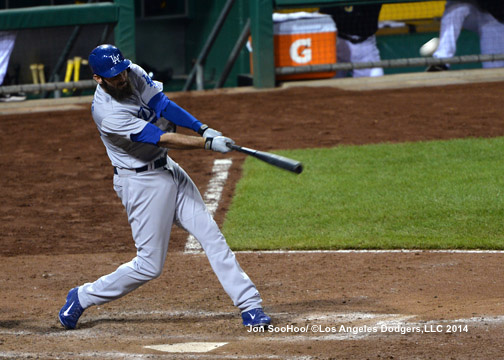 The Gonzalez homer, later followed by a Scott Van Slyke pinch-hit blast, was the Dodgers' eighth of the month and first since July 9, ending a streak of 317 plate appearances without one.
The Dodgers hadn't had a two-homer game since Independence Day, and haven't hit three homers in a game since June 17.
Still, they managed to go 5-3 in their recent eight homerless games.
* * *
So, Chris Perez. No one would deny that was a brutal outing Tuesday, when Perez became the first Dodger reliever since 1988 to walk four consecutive batters, as Eric Stephen of True Blue L.A. notes. It ended — with a thud — a stretch in which Perez had faced 37 batters over eight games and allowed only 10 to reach base, for a .496 opponents' OPS, while stranding one of six inherited baserunners.
Few probably remember now that Perez began the year even hotter, facing 45 batters in his first 14 games and allowing only nine to reach base, for a .380 opponents' OPS. Perez has been having some extreme fluctuations in batting average on balls in play this season:
.161 March 22-May 1
.444 May 2-June 15
.179 June 16-July 21
Perez walked more batters in the eighth inning Tuesday than he had in his previous eight games.
* * *
Brandon League has been the best reliever in the National League most of this year in inducing double-play grounders. When he relieved Perez with the bases loaded and the Dodgers down by two, he got two grounders — the difference being, these found holes.
Russell Martin hit a dirt-skipper to the left of an over-shifted Dee Gordon, and Ike Davis followed with a bouncer that also went between Gordon and Gonzalez. Live by the sword metaphor, die by the sword metaphor.
* * *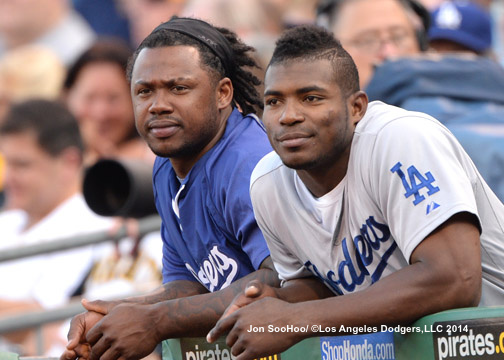 Though I'm not as breathless as others seem to be about it, I'm curious to see how the Dodgers align their outfield once Yasiel Puig returns from his hit-by-pitch injury.
There was a lot of talk about how Matt Kemp hadn't played right field in five years, but people were treating the position as if it were as alien to him as left field was, which wasn't the case.
Kemp had started 131 games in right field before this season. He had started eight games in left before this season. The clamor to move Kemp to center field began largely as a consequence of Andruw Jones' struggles there in 2008, and the appearance that Kemp, who looked natural in right, could adapt to center. It doesn't surprise me that Kemp's appearances in right field have seemingly had a homecoming aspect to them.
Puig's arm still probably plays best in right field, though it might make sense for the Dodgers in the short term to move him to center and just warn the corner outfielders to stay out of his way.  The answer isn't obvious.
* * *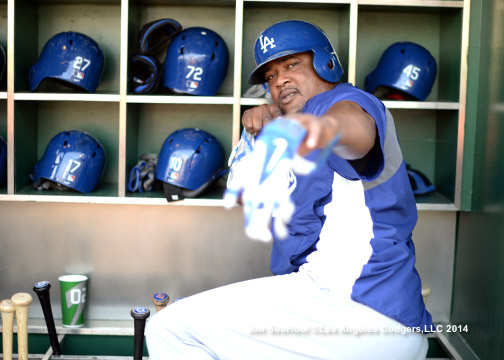 Have people even noticed that Juan Uribe has hit .295 in the 78 at-bats he's had since his return from the disabled list four weeks ago? It has been a quiet .295, with two doubles, a home run and four walks, but that's been alongside his fine fielding, with 50 assists compared with two errors in nearly 180 innings.
For the year, Uribe has what we'll call a 26.2 assist-to-turnover ratio, topped in the National League by only Atlanta's Chris Johnson (31.5) and San Francisco's Pablo Sandoval (30.3).
In terms of advanced measurements of overall defensive performance, with Chase Headley gone from San Diego to the Bronx, Uribe is now the No. 1 defensive third baseman in the National League, according to Fangraphs, and it's not that close. And thanks to Justin Turner, the Dodgers are the best as a team defensively at third base.
* * *
Slugfest update: Tuesday's game was the seventh of the year for the Dodgers in which they scored and allowed at least six runs. The Dodgers are 3-4 in those games, and as you can see, seven has not been particularly lucky for them.
6-7 April 9 vs. Detroit
8-6 April 13 at Arizona
8-6 April 19 vs. Arizona
9-7 May 3 at Miami
7-18 May 17 at Arizona
7-8 July 5 at Colorado
7-12 July 22 at Pittsburgh