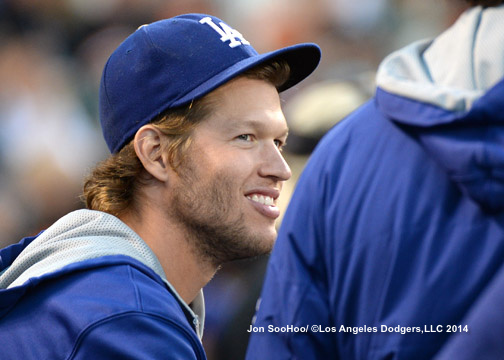 Braves at Dodgers, 7:10 p.m.
Dee Gordon, 2B
Yasiel Puig, CF
Adrian Gonzalez, 1B
Hanley Ramirez, SS
Carl Crawford, LF
Matt Kemp, RF
Juan Uribe, 3B
Drew Butera, C
Josh Beckett, P
By Jon Weisman
Asked to explain the key factor in the Dodgers' sweep of San Francisco this past weekend, Clayton Kershaw replied with a laugh.
"It's just Donnie finally putting the right lineup out there," Kershaw said Monday at the Los Angeles Sports and Entertainment Dodgers All-Access event at Dodger Stadium. "It's about time he got it right."
Though there's no doubt some are inclined to take him seriously, Kershaw was clearly joking. While it'd be nice to think that there is a magic lineup that would make the Dodgers unstoppable, a bigger reason for the sweep was probably a different decision that Mattingly & Co. made, setting up the Dodgers' top three starting pitchers to face … not the Giants' top three starting pitchers.
Yes, the Dodgers scored 17 runs in three games, which is impressive. Even more impressive, though, is that they allowed only four. Starting pitchers gave up three runs in 22 innings, for a 1.23 ERA.
Awkward segue time … Overall, there's something unreal happening with the Dodger starting pitching this year, and as a fun way to illustrate this, I'm going to betray my core beliefs and bring up pitcher wins.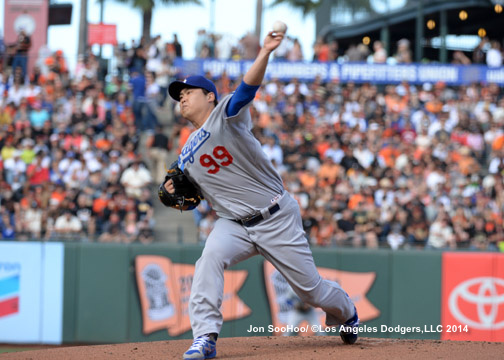 We should all know by now that pitcher wins are practically meaningless. They depend on the whims of run support and timing and other factors that turn their worth into jelly.
The other day, Youngest Master Weisman said to me, "Tortellini makes me tired." And that statement had more truth to it than pitcher wins do.
The way the game is played today, starting pitchers in 2014 could never pile up as many wins as a team from 40 or 80 years back. They are pulled from games far too quickly, right?
Except the 2014 Dodger starting pitchers are a throwback. Kershaw, Zack Greinke and Hyun-Jin Ryu already each have 12 wins. With 56 games to go in the season, the Dodger starting rotation is 51-30, on pace to win 78 games, more than any MLB starting rotation since the 2005 St. Louis Cardinals.
In fact, this year's Dodgers have a solid shot at breaking the franchise record for starting pitcher wins: 81 in 1978.
The starting rotation for the 1974 Dodgers, which set a Los Angeles record with 102 victories, had 73 wins. The Orel Hershiser-led 1988 Dodgers had 67 wins. This year's rotation might top those years and every other in Dodger history.
Wouldn't that be weird? Meaningless, but weird — and perhaps ironically cool.
(Oh, and the Dodgers' starting pitchers have the lowest xFIP in the Major Leagues. Less weird, more meaningful and sincerely cool.)