[mlbvideo id="34960427″ width="550″ height="308″ /]
Braves at Dodgers, 7:10 p.m.
Kershaw CXCIX: Kershawr Town
Dee Gordon, 2B
Yasiel Puig, CF
Adrian Gonzalez, 1B
Hanley Ramirez, SS
Carl Crawford, LF
Matt Kemp, RF
Juan Uribe, 3B
A.J. Ellis, C
Clayton Kershaw, P
By Jon Weisman
No silver bullet explains why Matt Kemp has started to look more and more like the elite player of his peak.
He's feeling healthier, but not the way he was in his near-MVP 2011 season. He's in a good place at the plate, but he still feels he needs to get better.
By now, Kemp knows too well the ups and downs of baseball, so he's hardly kicking back and saying his comeback is complete.
"Baseball's not easy," Kemp said today. "It's been a rough couple of years. I'm still trying to get all the way back. I'm not done. Still got lots of work to do."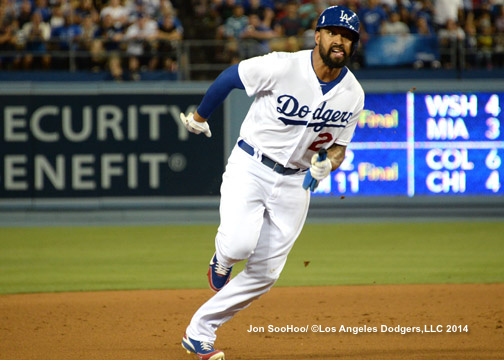 The only thing we can say for sure is that right now — and going back longer than you might realize — Matt Kemp has been hot. Very hot.
He has six hits and three home runs in his past two games. He's 12 for 19 with 23 total bases, three walks and one strikeout during the Dodgers' five-game winning streak. He even has a .904 OPS in his last 50 games, dating back to June 1.
As so many Dodger fans have come to realize, when Kemp is driving the ball to the opposite-field gap, it's as sure a sign as you need as he's on.
"Seeing the ball well, letting the ball get deep, getting good pitches to hit — yeah, that's my strength, hitting the ball to right center," Kemp said. "When you can do that, it's hard to try to pitch around a person."
The easy explanation for Kemp's increasing success is that he's growing healthier — something buttressed by his friskiness in twice taking two bases on infield singles during Wednesday's 3-2 Dodger victory.
[mlbvideo id="34958319″ width="550″ height="308″ /]
But health isn't everything. Kemp has had to work to find himself.
"You've got to search for your old swing, look at videos and do all that stuff," Kemp said. "You've just got to put it all together. … Practice, more practice, more practice.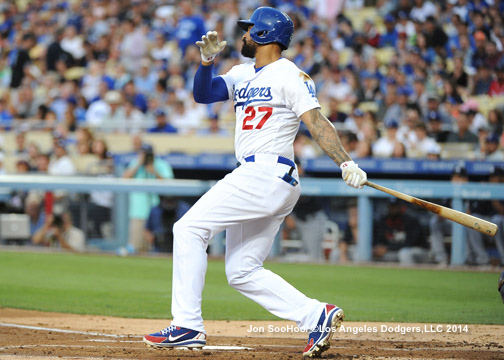 "I always felt I could hit — it's just trying to put it together and trying to find ways to have good at-bats, and just having the game come to you. Like I said, it's still early. Still a long ways to go — have to keep going, figure out a way to help my teammates to the playoffs and get deep into the playoffs."
By his own admission, Kemp has also had to work on "not being so aggressive in trying to make things happen." He's had to find the right temperament for success.
"As an athlete, no matter what happens, injuries, you always expect to come back," he said. "I'm an impatient person, so me being patient, trying to wait for it to come back or whatever you may call it, you get frustrated. You (must) be patient in these situations.
"I've had a couple of injuries that have been serious, and it just takes time. You can ask Gonzo and Hanley and those guys who have had some of those serious surgeries. I wish you could come back from some of these major surgeries" — he snaps his fingers — "and get back all the way to the way it used to be, but sometimes it doesn't work like that."
Kemp is still a Dodger — still very much a Dodger — despite rumors to the contrary leading up to today's non-waiver trade deadline. Kemp said today he wasn't bothered by the supposed uncertainty.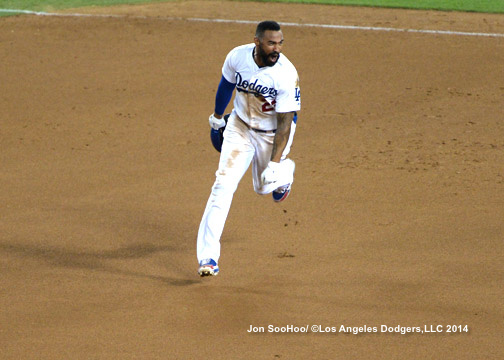 "I wasn't worried about anything," Kemp said. "I was just worried about the game, worried about what pitcher I was facing that day and what I could do to help us win."
So in the end, Kemp was asked, is he happy about where he is?
"Yeah, I am," he said. "We're in first place. That's where I want to be."