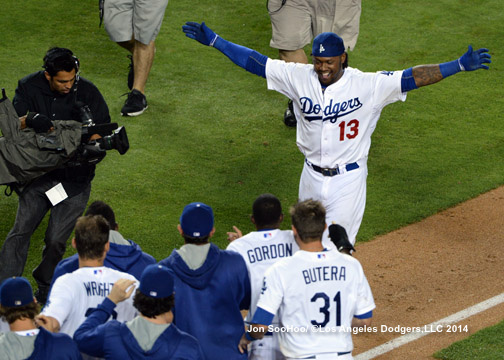 For more highlights from Saturday's game, visit LA Photog Blog.
Cubs at Dodgers, 1:10 p.m.
Justin Turner, 2B
Yasiel Puig, CF
Adrian Gonzalez, 1B
Hanley Ramirez, SS
Matt Kemp, RF
Andre Ethier, LF
Juan Uribe, 3B
Drew Butera, C
Josh Beckett, P
By Jon Weisman
Just a rest day for Dee Gordon today, while A.J. Ellis is taking one more game out of the lineup before coming back.
Dodger manager Don Mattingly told reporters that if Drew Butera had needed to pitch in Saturday's extra-inning game, Ellis could have caught.
* * *
Young Master Weisman, the boy I didn't drop, turns 10 today. I can't believe it. But I'm very proud of him, and I love him.