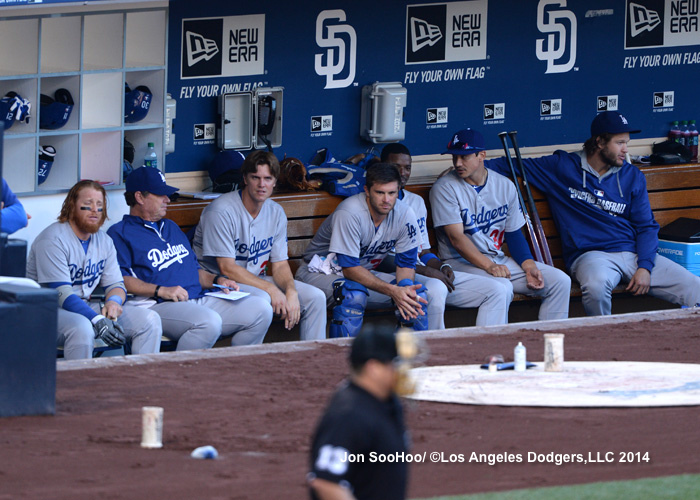 For more photos from Saturday, visit LA Photog Blog.
By Jon Weisman
Throughout their history, like any other team, the Dodgers have hit the wall offensively from time to time, far worse than their three runs in 22 innings this weekend in San Diego, including Saturday's 2-1, 10-inning loss.
Only two years ago, there were three consecutive shutouts by the Giants. And before that, these droughts from 2007 and 2003. And so on back through time. It's almost impossible for anything to surpass the 33 consecutive scoreless innings that finished the 1966 World Series, a year before I was born.
In my own lifetime, the pinnacle of offensive debacles was the first two games of the 1981 National League Division Series, which left me with as hopeless a feeling as I've ever had: 20 innings, one run, two walkoff losses.
Dodgers	000 000	100-1
Astros	000 001	002-3
Dodgers	000 000	000 00-0
Astros	000 000 000 01-1

That was tough stuff. But the Dodgers came home and outscored Houston, 12-2, in the final three games of the NLDS and were on their way to the next round.
The 1988 Dodgers practically hung their legacy on being offensively challenged, a branding that's only partially deserved (they were slightly below average in offense but seaworthy, before the injuries to Kirk Gibson and others nearly through them overboard). Better offensive teams than the '88 Dodgers have come up short, but there's no way to know in advance. Repeat: there's no way. In the end, the team is either going to score when it counts or it won't.