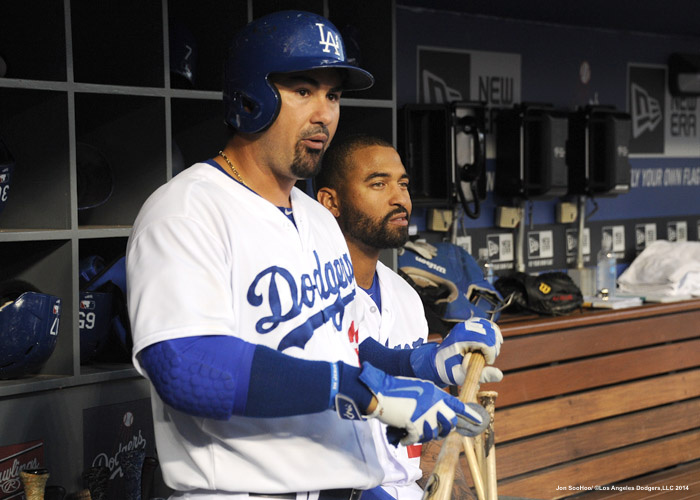 For more photo highlights from Saturday, visit LA Photog Blog.
Diamondbacks at Dodgers, 1:10 p.m.
Dee Gordon, 2B
Hanley Ramirez, SS
Adrian Gonzalez, 1B
Matt Kemp, RF
Andre Ethier, LF
Justin Turner, 3B
Yasiel Puig, CF
Drew Butera, C
Zack Greinke, P
By Jon Weisman
Clayton Kershaw is in a league of his own, but Matt Kemp's second-half offensive surge made me wonder whether he's the Dodgers' most valuable player since the All-Star Break — at least among position players.
According to Fangraphs, Kemp has been the Dodgers' top offensive player since the All-Star Break, though the site continues to downgrade his defense significantly. I struggle with the idea that enough action has come to Kemp in the outfield to have that much of an impact on his overall worth, but I do trust the stats more than my anecdotal observations.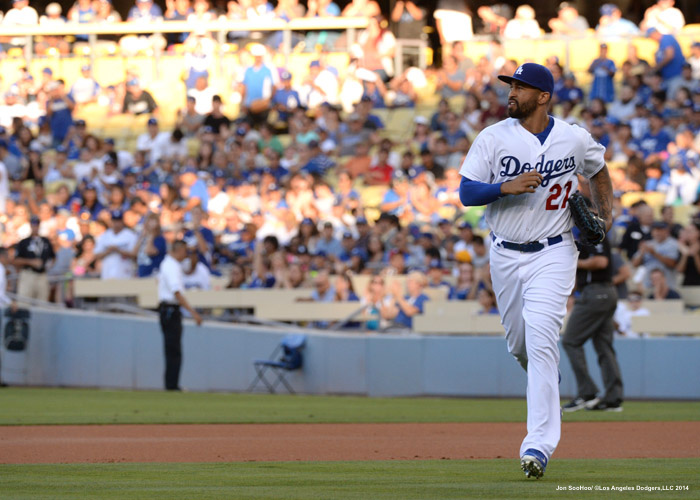 In any case, with the caveats of small sample size, moving to right field has helped Kemp (the following are full-season stats):
UZR/150 in center field: -33.4
UZR/150 in left field: -38.2
UZR/150 in right field: -15.4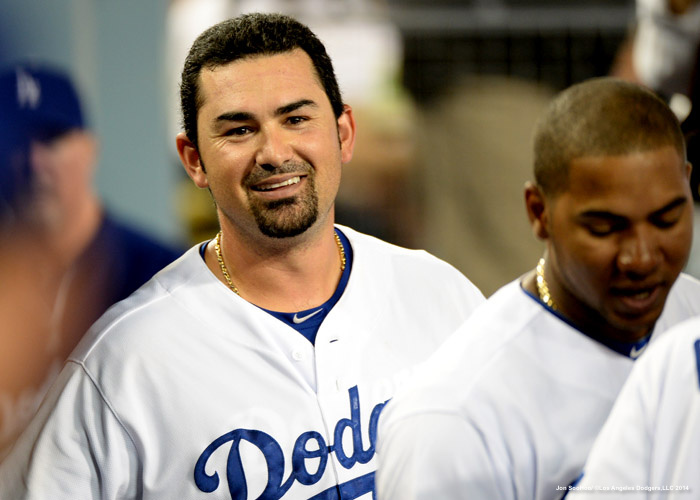 Fangraphs makes Adrian Gonzalez No. 1 in Wins Above Replacement in the second half for the Dodgers. Gonzalez ranks below-average defensively but only just so, and his second-half offense quietly just about matches up with Kemp's:
Gonzalez: .391 OBP, .534 slugging, 156 wRC+
Kemp: .378 OBP, .574 slugging, 164 wRC+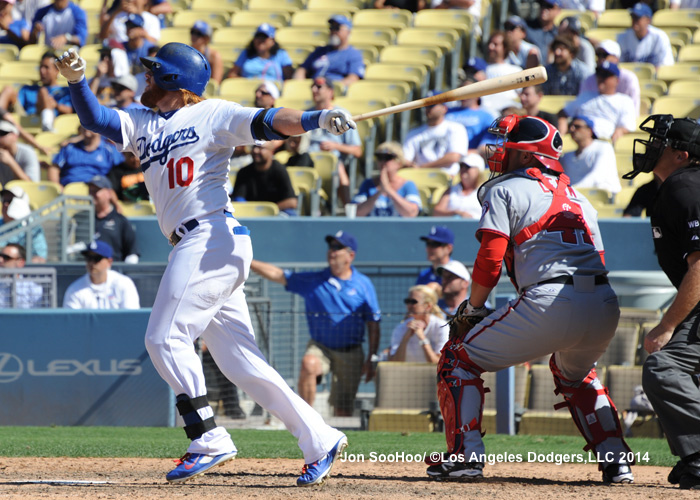 But here's a twist for you. If you tweaked this discussion from the Dodgers' most valuable position player of the second half  to the Dodgers' best position player of the second half, the answer might well be Justin Turner.
Turner's offense matches Kemp's — .432 OBP (astonishing), .474 slugging, 163 wRC+ — and his defense surpasses both Kemp and Gonzalez. In fact, if Turner weren't forced to play out of position at times, his defense for the 2014 season would be above average:
UZR/150 at third base (384 innings): 0.8
UZR/150 at second base (85 2/3 innings): 0.4
UZR/150 at shortstop (72 innings): -24.8
UZR/150 at first base (19 innings): -13.8
Not to say that Turner's performance might not decline if he played every day like Gonzalez and Kemp (that's Don Mattingly's contention, by the way), but per unit of playing time, Turner has generated the highest WAR on the Dodgers in the second half.
Gonzalez: 1.7 WAR in 184 plate appearances
Kemp: 1.1 WAR in 185 plate appearances
Turner: 1.2 WAR in 111 plate apperances, pro-rated to 2.0 WAR in 184.5 plate appearances
Thanks to Turner and Juan Uribe, who is the Dodgers' top defensive regular and fourth on the team in WAR in the second half, third base has led the way among the Dodgers' non-pitchers in helping the team hold onto the lead in the National League West.