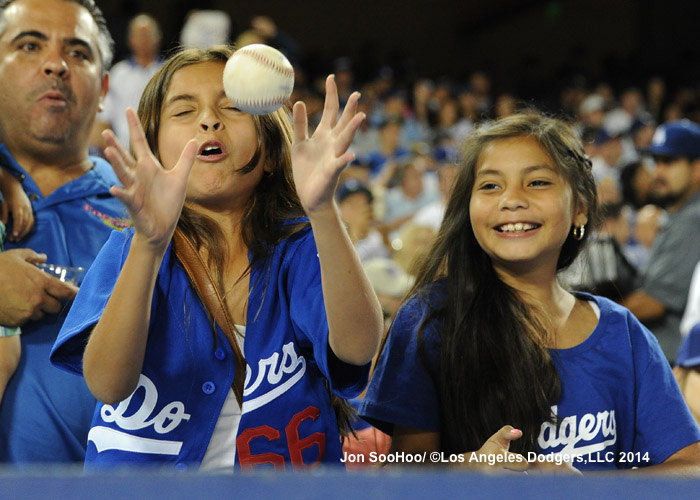 For more photo highlights from Tuesday, visit LA Photog Blog.
Padres at Dodgers, 7:10 p.m.
Yasiel Puig, CF
Justin Turner, 2B
Adrian Gonzalez, 1B
Matt Kemp, RF
Hanley Ramirez, SS
Carl Crawford, LF
Juan Uribe, 3B
A.J. Ellis, C
Dan haren, P
By Jon Weisman
Since Australia in March, Dee Gordon has been as regular as they come against right-handed starting pitching in 2014, but the charms of hot-hitting Justin Turner have given Don Mattingly the opportunity to give the speedy second baseman to have an extra day of rest heading into Thursday's off day.
Turner has a .437 on-base percentage and .517 slugging percentage in 229 plate appearances since May 11.
Gordon has been on a hot streak of his own in the past week, going 10 for 29 with a walk and two doubles for a .367 on-base percentage and .414 slugging percentage. For what it's worth, Mattingly mentioned Gordon not having a strong history against Kennedy (4 for 21, including a double and a triple, with one walk and six strikeouts).
Some other quick hits (some courtesy of the Dodgers' PR department):
Paco Rodriguez threw a bullpen session today at 100 percent and it went really well, according to Mattingly, who added that the key is how the lefty reliever feels the day after.
Over the past month, Carl Crawford is first in the big leagues in batting average (.405), fourth in on-base percentage (.453) and seventh in slugging percentage (.557).
Though it has taken him a month to do it because of how rarely the Dodgers have been facing lefties, Scott Van Slyke has quietly put together a 10-game hitting streak with a .985 OPS since August 8.
Matt Kemp has an even longer hitting streak going: 15 games. His career-long is 19.
Adrian Gonzalez is on pace to become the first Dodger to lead NL in sacrifice flies in back-to-back years since Gil Hodges (1954-55).