A little infield with Kershaw and Billingsley … https://t.co/TdX3Mvxjxs

— Dodger Insider (@DodgerInsider) September 22, 2014
For photos from Sunday, visit LA Photog Blog.
Giants at Dodgers, 7:10 p.m.
Dee Gordon, 2B
Yasiel Puig, CF
Adrian Gonzalez, 1B
Matt Kemp, RF
Hanley Ramirez, SS
Carl Crawford, LF
Juan Uribe, 3B
A.J. Ellis, C
Dan Haren, P
By Jon Weisman
Tuesday brings the first official day of fall, but this afternoon at Dodger Stadium felt like the real beginning. Shadows had crept all the way to the baselines by the time Don Mattingly's pregame press session broke, the burning rays of last week's heat wave a fully distant memory.
And with the Giants in town and the stakes never higher with six games remaining in the season, this entire week could be considered the eve of October.
Mattingly resolutely refuses to acknowledge any game but the one right in front of him. A question about the potential of clinching the National League West tomorrow was pushed aside, one about postseason rosters was dismissed practically before it was finished.
But what Mattingly did say is this:
"Over the last month, I'd say more than ever, these guys are ready to play."
That, of course, doesn't guarantee anything. It doesn't mean they aren't staying loose, and it doesn't mean they won't make mistakes. But it confirms that, in the eyes of a manager who wasn't shy about calling out the team when it was underperforming, one game above .500 and about 20,000 leagues under the sea, the Dodgers are game for the goal in front of them.
* * *
Chad Billingsley flew in today, hungry just to be back around a Major League clubhouse again.
The 30-year-old righthander, who had his second surgery in two years on June 27, has been splitting time his East Coast home and between Dodger facilities in Arizona. He said he can begin a throwing program in about two months. The Dodgers can exercise an option on Billingsley for the 2015 season or buy it out and let him become a free agent.
Billingsley has been forced to be patient, but he's burning to get back on a Major League mound.
* * *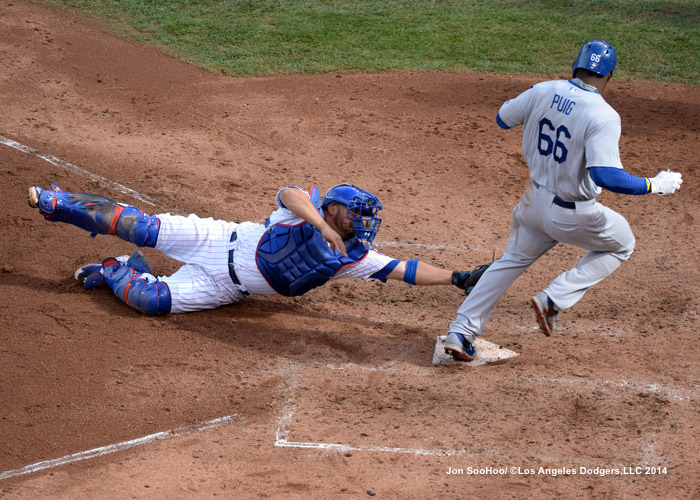 Mattingly had no trouble acknowledging what seems obvious with Yasiel Puig, that he has put his summer slump behind him.
The Dodgers spent a couple weeks trying different approaches with Puig to try to get him going again, Mattingly said, "just trying to take some pressure off of him, put him in the back end of the order, get him some days off, get him some rest."
From August 4 through September 10, Puig was 21 for 115 with a .282 on-base percentage and .209 slugging percentage: three doubles, no triples and no home runs in 131 plate appearances.
"Sometimes when you're so close to it, you can't see it," Mattingly said.
But when the series against the Giants 10 days ago approached, Mattingly and the Dodgers decided it was time to go all in on Puig. In the 10 games that followed, Puig went 18 for 48 with a .479 on-base percentage and .679 slugging percentage.
Like most of the Dodger lineup, Puig was able to take advantage of shaky opposing pitching in hitters' parks for the past seven days, but he also went 5 for 12 with a .500 OBP in the three games at San Francisco. The next big test begins tonight.