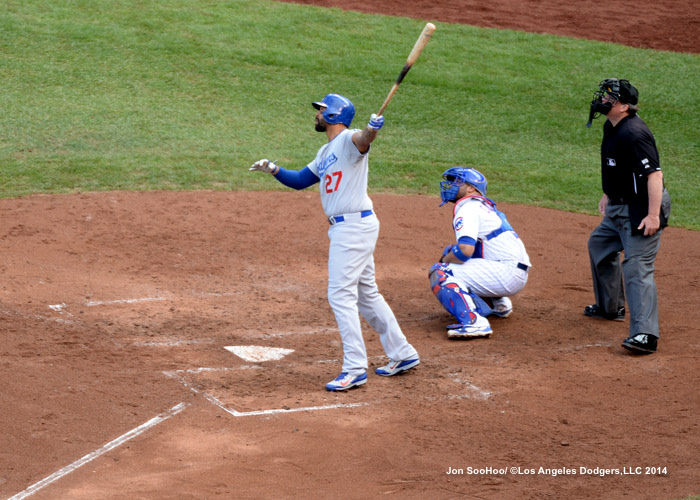 Giants at Dodgers, 7:10 p.m.
Justin Turner, 2B
Yasiel Puig, CF
Adrian Gonzalez, 1B
Matt Kemp, RF
Hanley Ramirez, SS
Scott Van Slyke, LF
Juan Uribe, 3B
A.J. Ellis, C
Zack Greinke, P
By Jon Weisman
Matt Kemp turned 30 today, and his birthday comes at a happy time in his career. With a .363 on-base percentage and .580 slugging percentage, Kemp is among other things the No. 5 hitter in the big leagues in the second half of 2014, according to wRC+ (weighted runs created plus).
Much of this has been attributed to Kemp's improved health, but as Don Mattingly discussed today (audio above), an adjustment to Kemp's mechanics has also been a factor.
"I think the biggest change Matt's made is to straighten up," Mattingly said. "I think you see him taller, you see his feet a little bit more straight. A guy that dives or is striding into the plate, he limits himself what he can do."
Mattingly drew a comparison between this and the mechanics of Giants pitcher Madison Bumgarner, an earlier topic of discussion today, noting the effect of unusual angles Bumgarner uses.
"As a hitter, when you cross into the plate and you dive, you block yourself off certain parts of the plate you can't handle and you can't get to," Mattingly continued. "Certain areas and even certain areas on both sides, you get cut off, and you don't have the same leverage. So to me, with Matt straightening up, he was able to get through the ball a lot better and really create more bat speed and then backspin."