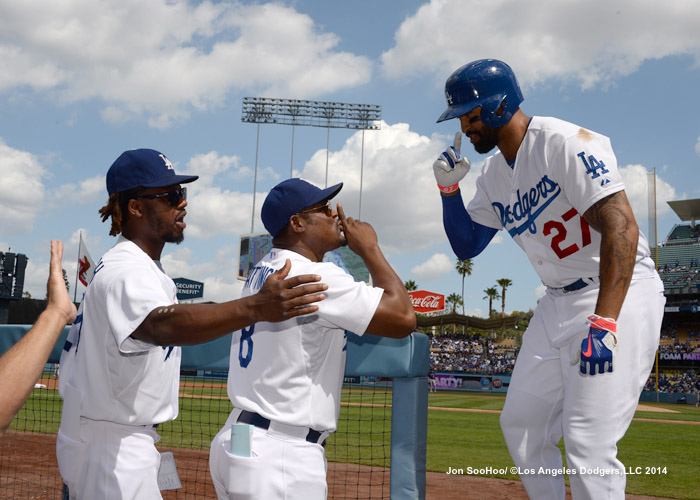 By Jon Weisman
With the MLB playoffs comes the national spotlight for the Dodgers. With the national spotlight comes the attempts to tell the story of the Dodgers by those who only have a passing acquaintance to them, to those who only have a passing acquaintance with them.
So for the benefit of baseball's fans and media galaxy-wide, here are three storylines that are sure to be shared about the 2014 Dodgers — and the reasons why they are largely bogus.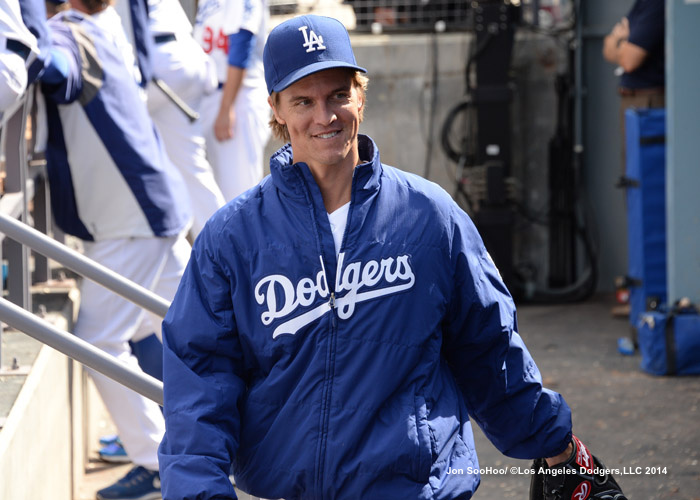 The Dodgers are Clayton Kershaw and nothing else.
Sometimes this angle is generously expanded to include a player here and there like Zack Greinke, Hyun-Jin Ryu (if healthy, of course), Yasiel Puig, Matt Kemp or Adrian Gonzalez. But with Kershaw rightfully grabbing the most attention this year, it has become trendy to characterize the Dodgers as ordinary without him. The latest hip quip: The Dodgers were 23-4 (.851) when Kershaw started this year,  "only" 71-64 (.526) when he didn't.
So, about that:
A .526 winning percentage is the equivalent of 85 wins in a 162-game season. In other words, that's not ordinary — that's good. The two National League wild-card teams each won 88 games. That means that even if you subtract the team's best player, the Dodgers still played well enough to be in the NL playoff race to the final weekend. Ten other MLB teams played better than .526 ball this year — far fewer would have done so without their top guy.
If you take away any team's best pitcher, they're not exactly going to be dominant. The St. Louis Cardinals are 67-63 (.515) without Adam Wainwright. That's right: However little the Dodgers are without Kershaw, the Cardinals are even less without Wainwright.
The Dodgers have the No. 1 offense in the Major Leagues. Read more about it at this link. It's an offense sure to be tested by some of the best pitching baseball has to offer, but that's true of the other nine playoff teams as well. Plus, the Dodgers have the benefit of not having to face Kershaw in a playoff game.
Oh, and in case you're going with "Clayton Kershaw is not a playoff pitcher," remember this.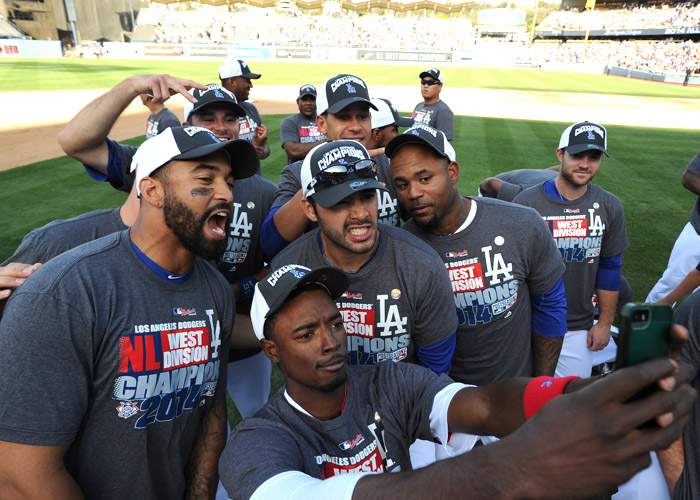 The Dodger offense doesn't come through in the clutch.
Probably the two most publicized stats about the aforementioned league-leading Dodger offense are negative — last in the league with the bases loaded and nearly hopeless (1-53) when trailing after seven innings.
So, about that:
While the Dodgers do inexplicably struggle with runners at every base, those situations come up extraordinarily rarely — less than once per game (129 times in 162 games). In contrast, with runners in scoring position, which happens 13 times as often (1,737 times), the Dodgers are the best in baseball, even inclusive of the frustrating bases-loaded gaffes.  (This has been discussed at length on Dodger Insider — here, for example and here as well.) To the extent that clutch hitting exists (debatable) or has existed, no team has been better in 2014 than the Dodgers.
Teams almost always lose when they trail after seven innings. The Dodgers are 1-53. St. Louis is 3-53. San Francisco is 8-65. Washington is 7-57. Pittsburgh is 8-57. The Dodgers are the worst of the group, but all it adds up to is one less comeback victory after seven innings per month. More likely than not, that's a fluke. But even if you think that's significant, it extrapolates to affecting one game in October.
Meanwhile, the Dodgers have been ahead after seven innings more often than any of these teams (90 times, next-best is Washington at 84). Part of the reason the Dodgers haven't rallied as much late is because they've been the best at taking care of business early.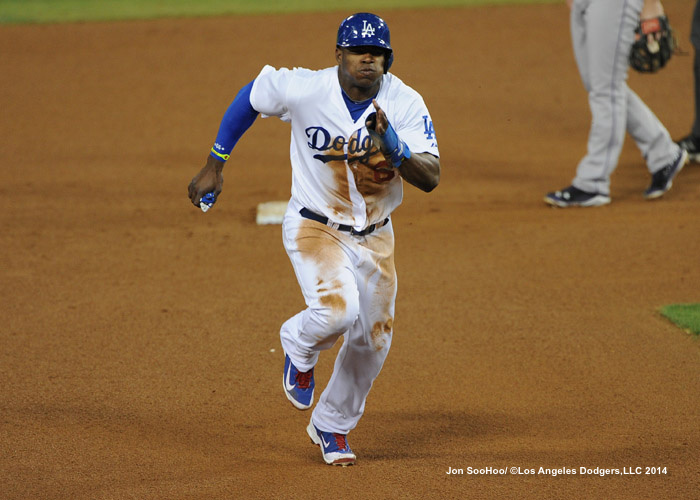 Yasiel Puig is a timed device waiting to destroy the Dodgers from within.
This, of course, is not a new narrative, but rather dates back more than a year. Puig's selfishness and reckless play is going to cost the Dodgers a game, and that game will cost the Dodgers a series.
So, about that:
Every single player in baseball is capable of making a play that will cost their team at the most critical moment. Every single player is capable of having a bad playoff series at the plate.
To the extent that Puig is more likely than others to do so, he is much more likely to make plays and deliver hits that will rescue the Dodgers from imminent defeat. Having emerged from his summertime slump with a .968 OPS and three home runs in his final 15 games, Puig finished ninth in the NL and first among Dodger hitters in wins above replacement and fourth in offense.
And for all the inevitable sniping if and when Puig misses his next cutoff man, Puig led MLB in outfield assists with 15 — five more than any other outfielder — an ongoing threat against those determined to take the extra base while punishing those who try to do so.
Despite going 0 for 10 in the first two games of the 2013 NLCS, Puig had a .366 on-base percentage in last year's postseason and crushed in the NLDS against Atlanta, going 8 for 17. Since his Dodger debut on June 3, 2013, the Dodgers have the best record in baseball: 168-111 (.602). Some correlation there? Sure. But the Dodgers will gladly take their chances with him.
Things will inevitably go wrong for the Dodgers at some point in the 2014 playoffs. When that happens, ideally, instead of going for the easy storyline, we reflect the true.