[mlbvideo id="36752533″ width="550″ height="308″ /]
By Jon Weisman
This was big. It was loud in here tonight. We continue to grind.
I just continue to grind. This is where I want to be. Last year, it was tough, battling the injuries, but I came back strong, I kept grinding, my teammates were behind me, my family was behind me, we kept grinding and here we are now.
This was big right here. On this stage, in the playoffs, this was a must win for us, we needed this. Gonna continue to grind, go to St. Louis and get two more wins.
We told each other when J.P gave up that home run, we're gonna back him up. We were gonna find a way to win this game. That's what good teams do. We back each other up when we make mistakes. We just keep on going.
— Matt Kemp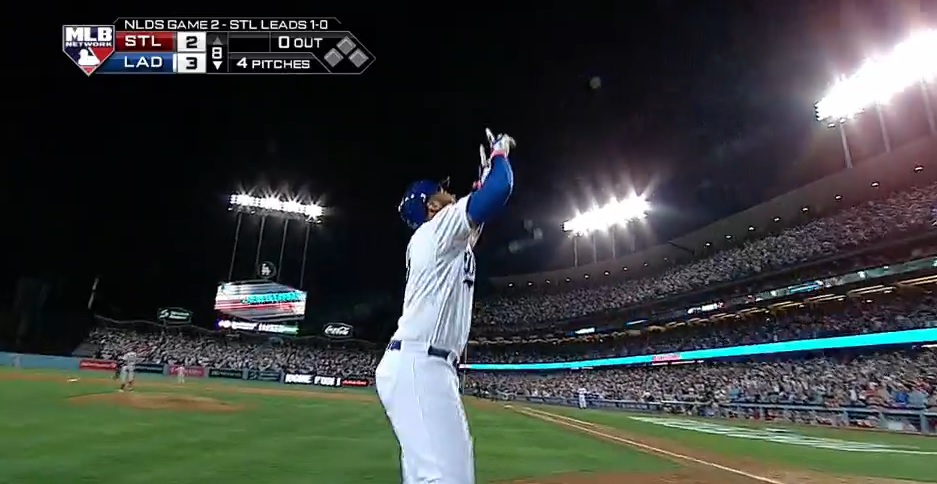 This is the message.
You saw the game. You felt the ups and downs. You felt the joy and the sorrow. The more confident you are that you know something that someone else doesn't, you felt the anger.
But baseball demands perseverance. Baseball demands humility.
Baseball demands that even after your starting pitcher throws seven shutout innings and leaves with a lead, you might need to start over five minutes later.
Baseball demands that you will have to overcome a hitter who becomes an impossible out when it counts.
Baseball demands that you have to fight for respect, day after day after day, even if you've been the best player on the planet.
There's no room for arrogance, no room for despair.
Baseball demands you grind.