[wpvideo pC28K6mP]
By Jon Weisman
Andre Ethier, Alien Hunter. Don Newcombe, proud stepfather.
Back in April, we told you that Ethier would be a guest star on the DisneyXD series "Lab Rats." That episode airs Monday at 6:15 p.m., and Dodger legend Don Newcombe, whose stepson Chris Peterson is the co-creator and executive producer of the show, was on set the day it was filmed.
"Don is an amazing man and he has taught me so much," Peterson said. "Every time he comes on set, he beams with pride. To think about all the amazing things he has done in his own career, to think of what this legend means to the institution of Major League Baseball — and here he is on the 'Lab Rats' set, prouder than ever.
"We're extremely close, and because of that he feels close to the show. He has known the cast from day one, and he loves interacting with all of them. At home, he never misses an episode of "Lab Rats," and I often get a call right after we air to hear how much he enjoyed it.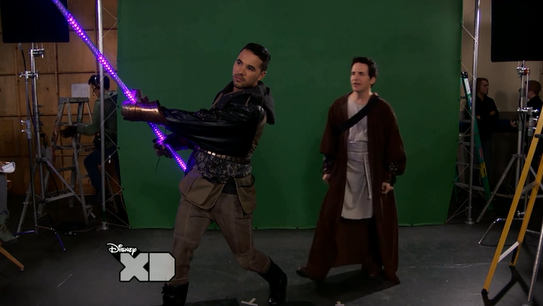 "On this particular day, Don was even more excited to be on set because Andre was there. The Dodgers are family to Don, and in a sense it was the coming together of both of his families. He watched with pride as Andre worked on his own stepson's show. His smile in the photo should tell you everything you need to know."
In the episode, Ethier plays himself in a scenario where he is the star of the latest pic in a blockbuster sci-fi movie franchise, "Alien Gladiators 8." His character in the movie is Sam, the Alien Hunter. Yep, that's right.