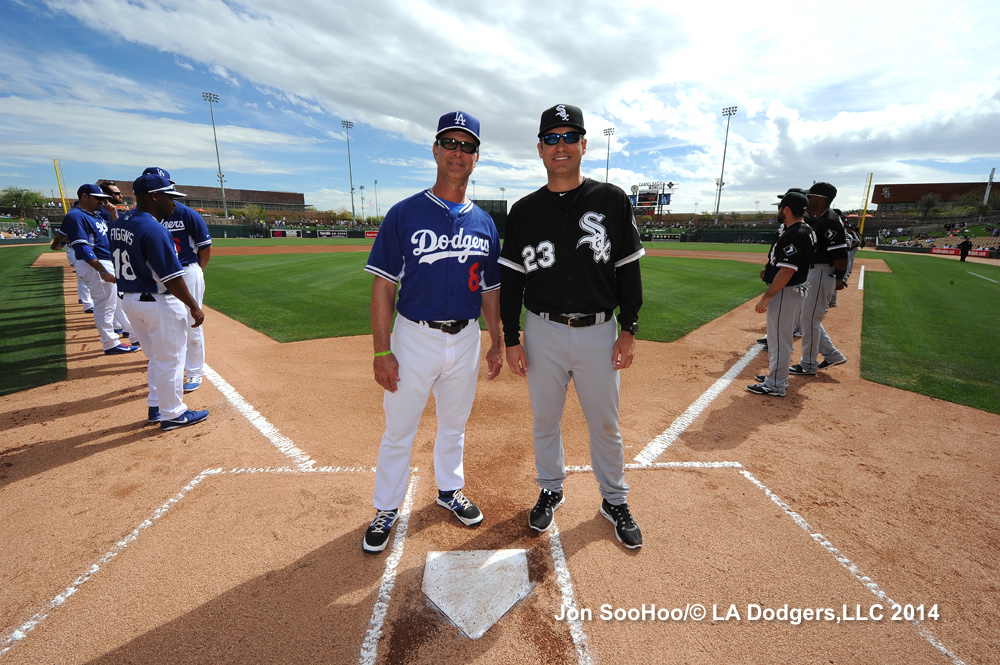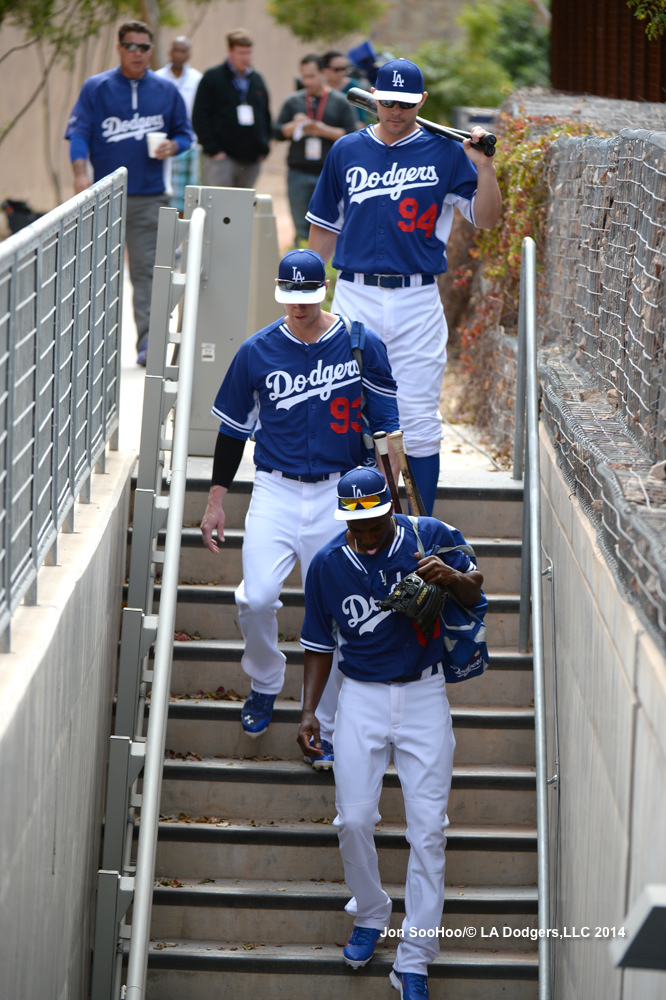 By Jon Weisman
Could Spring Training really be right around the corner? Depending how big your corner is, yes.
The Dodgers announced today that they will begin their 2015 Spring Training schedule March 4 against the Chicago White Sox at Camelback Ranch – Glendale in Arizona. The full schedule can be found here.
Los Angeles will play 15 home games and 17 overall at Camelback Ranch, including at least one home game each of the four Cactus League Weekends. The Dodgers also host the Giants at Camelback on March 27.
After Cactus League play concludes, the Dodgers will play the Angels in Anaheim on April 2 and April 3, before wrapping up exhibition play April 4 against the Angels in Dodger Stadium.
Season tickets, mini plans, group tickets and suites are all available now at www.dodgers.com/spring or by calling (623) 302-5000. A full schedule of promotions is available at www.camelbackranchbaseball.com. Single-game tickets are scheduled to go on sale on January 12.
Opening Day for the Dodgers' 2015 regular season is April 6 at Dodger Stadium against the Padres.
2015 Dodgers Spring Training Schedule

| | | | | |
| --- | --- | --- | --- | --- |
| Date | Day | Opponent | Location | Game Time |
| 3/4/2014 | Wednesday | CWS | Glendale | 1:05 p.m. |
| 3/5/2015 | Thursday | CWS | Glendale | 1:05 p.m. |
| 3/6/2015 | Friday | SEA | Glendale | 1:05 p.m. |
| | | MIL | Maryvale | TBD |
| 3/7/2015 | Saturday | CLE | Goodyear | TBD |
| 3/8/2015 | Sunday | MIL | Glendale | 1:05 p.m. |
| 3/9/2015 | Monday | SF | Scottsdale | TBD |
| 3/10/2015 | Tuesday | COL (ss) | Glendale | 1:05 p.m. |
| 3/11/2015 | Wednesday | CHC | Mesa | TBD |
| 3/12/2015 | Thursday | SD | Peoria | TBD |
| 3/13/2015 | Friday | CIN | Glendale | 7:05 p.m. |
| 3/14/2015 | Saturday | CLE | Glendale | 1:05 p.m. |
| 3/15/2015 | Sunday | SEA | Peoria | TBD |
| 3/16/2015 | Monday | OAK | Glendale | 1:05 p.m. |
| 3/17/2015 | Tuesday | TEX | Surprise | TBD |
| 3/18/2015 | Wednesday | CHC | Glendale | 1:05 p.m. |
| 3/19/2015 | Thursday | LAA | Glendale | 1:05 p.m. |
| 3/20/2015 | Friday | OAK (ss) | Mesa | TBD |
| | | TEX (ss) | TBD | TBD |
| 3/21/2015 | Saturday | COL (ss) | Scottsdale | TBD |
| | | TEX (ss) | TBD | TBD |
| 3/22/2015 | Sunday | CLE | Glendale | 1:05 p.m. |
| 3/23/2015 | Monday | ARI | Glendale | 1:05 p.m. |
| 3/24/2015 | Tuesday | Off Day | | |
| 3/25/2015 | Wednesday | SD | Glendale | 1:05 p.m. |
| 3/26/2015 | Thursday | CWS | Glendale | 1:05 p.m. |
| 3/27/2015 | Friday | SF | Glendale | 7:05 p.m. |
| 3/28/2015 | Saturday | LAA | Tempe | TBD |
| 3/29/2015 | Sunday | TEX | Glendale | TBD |
| | | SF | Scottsdale | TBD |
| 3/30/2015 | Monday | ARI | Scottsdale | TBD |
| 3/31/2015 | Tuesday | CWS | Glendale | 1:05 p.m. |
| 4/1/2015 | Wednesday | KC | Surprise | TBD |
| 4/2/2015 | Thursday | LAA | Anaheim | 7:05 p.m. |
| 4/3/2015 | Friday | LAA | Anaheim | 7:05 p.m. |
| 4/4/2015 | Saturday | LAA | Los Angeles | 6:10 p.m. |