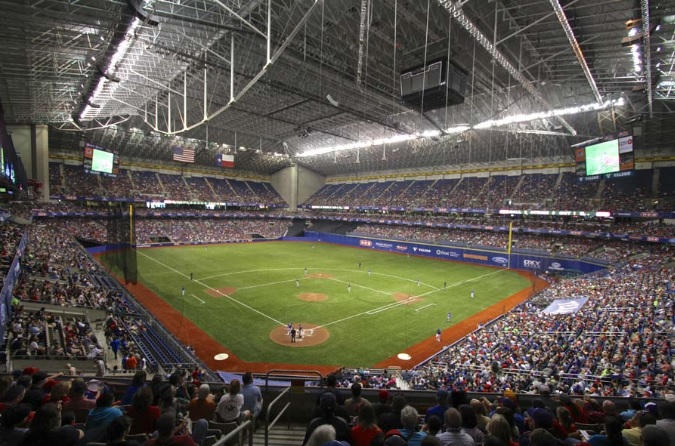 By Jon Weisman
It won't be nearly as far as Sydney, but some Dodgers are taking a small detour in March.
Returning to the home of their Double-A team from 1977-2000, the Dodgers will take a split-squad team March 20-21 to San Antonio to play the Texas Rangers in the 2015 H-E-B Big League Weekend.
The two games will be played at the Alamodome in downtown San Antonio. Tickets go on sale Friday.
"We're excited about this matchup," said Hall of Fame pitcher Nolan Ryan, co-founder of Ryan Sanders Baseball, the owner of the Triple-A Round Rock Express and co-host of these exhibitions. "The Dodgers are one of the most successful franchises in baseball with some good, young players. For fans in San Antonio and all over the state, it's a great opportunity to see play them since there is not a National League team in Texas anymore."
Nearly 50,000 fans attended last year when the Rangers hosted in-state rival Houston for the two-game Big League Weekend at the Alamodome in 2014. The previous year brought the inaugural Big League Weekend, the first baseball event in the building's 20-year-history, with more than 75,000 in attendance.
"Playing in the Alamodome should be quite an experience for our team and our fans," Dodger president and CEO Stan Kasten said.
The Dodgers were affiliated with San Antonio from 1977-2000. The minor league club was known as the San Antonio Dodgers for the first 11 years, before changing its nickname back to Missions for the 1988 season. Texas third baseman Adrian Beltre was playing as a 19-year-old Dodger minor-leaguer in San Antonio in 1998 when the Dodgers called him up.
Other Dodgers to play in San Antonio include Ron Washington (1977), Bob Welch (1977), Ron Roenicke (1978–1979), Mike Scioscia (1978), Dave Stewart (1978), Orel Hershiser (1980–1981, 1991), Fernando Valenzuela (1980), Steve Sax (1981), Sid Bream (1982), Sid Fernandez (1983), Franklin Stubbs (1983), Ramon Martinez (1988, 1996), John Wetteland (1988), Eric Karros (1990), Pedro Martinez (1991), Raul Mondesi (1991–1992), Eric Young (1991), Mike Piazza (1992), Henry Blanco (1993–1996), Todd Hollandsworth (1993), Chan Ho Park (1994), Miguel Cairo (1995), Paul Lo Duca (1995, 1997), Paul Konerko (1996), Alex Cora (1997), Dennys Reyes (1997) and Eric Gagne (1999).
The Dodgers who don't travel to San Antonio will play split-squad Cactus League games on the road March 20 against the A's and March 21 against the Rockies.