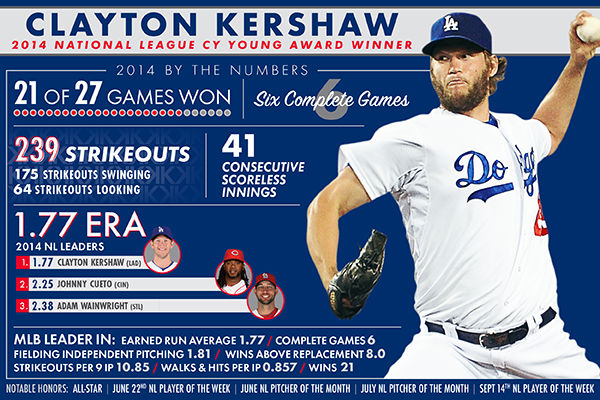 Dodger Cy Young Award winners
1956: Don Newcombe*
1962: Don Drysdale*
1963: Sandy Koufax*
1965: Sandy Koufax*
1966: Sandy Koufax*
1974: Mike Marshall
1981: Fernando Valenzuela
1988: Orel Hershiser
2003: Eric Gagne
2011: Clayton Kershaw
2013: Clayton Kershaw
2014: Clayton Kershaw
*one Cy Young award for MLB
By Jon Weisman
No apologies necessary.
Earning unanimous support on all 30 ballots from the Baseball Writers Association of America, Clayton Kershaw has won his third National League Cy Young Award in four seasons.
The Cy Young Award is a regular-season honor. It's not a World Series trophy, and Kershaw would be the first to explain the difference.
But the Cy Young is the rightful prize for a pitcher who has been as dominant as Kershaw, and one to celebrate, not denigrate.
Favorite Son
Kershaw has received 83 percent of the maximum number of Cy Young ballot points over the past four years.
2014
: 210 points out of 210
2013
: 207 points out of 210
2012
: 96 points out of 224
2011
: 207 points out of 224
Total:
720 points out of 868
Kershaw tied Sandy Koufax with the most Cy Youngs in Dodger history (likewise in a four-year span); together they account for half of the 12 Cy Youngs the Dodgers have won, most in the Majors.
The 26-year-old lefty, who became the first to lead the big leagues in ERA for four consecutive seasons, is also the first in MLB history to win three Cy Youngs before turning 27.
I think back over all the joy Kershaw brought us this year — the no-hitter, the scoreless streak, the start-after-start sensations — and I truly get chills.
"Make no mistake," wrote Jeff Sullivan in his analysis of Kershaw today at Fangraphs, "what Kershaw did in 2014 was of historical significance."
It was an extraordinary year, and the Dodgers offer Clayton Kershaw their most sincere congratulations.
[mlbvideo id="36917683″ width="550″ height="308″ /]