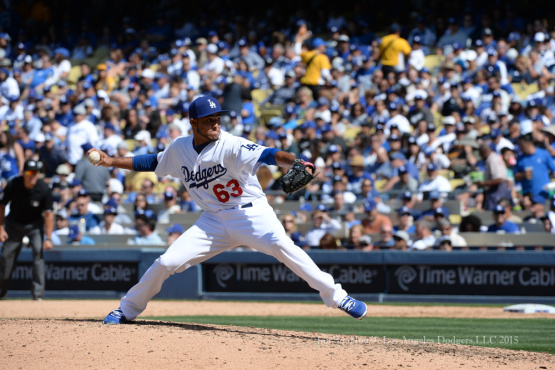 By Jon Weisman
It's the third edition of our new Dodger Insider feature — also appearing in the print magazine — in which you get to play manager each month and pick the move to make in a hypothetical situation.
The setup: It's the top of the eighth inning, with the Dodgers leading the Cardinals, 3-2. Right-hander Yimi Garcia is on the mound in relief. He strikes out Jason Heyward but gives up a one-out double to Matt Holliday. Left-handed hitting Matt Adams is up, with righty Jhonny Peralta on deck. Lefty reliever Paco Rodriguez and righty Pedro Baez are warm in the bullpen.
The question: Do you …
A) have Garcia pitch to Adams
B) have Garcia intentionally walk Adams, then pitch to Peralta
C) have Garcia intentionally walk Adams, then bring in Baez to pitch to Peralta
D) bring in Rodriguez to face Adams
Your call: Tweet your decision to @DodgerInsider with the hashtag #DIyourcall, or leave a comment on this blog post. We'll highlight the results in the June issue of Dodger Insider.
Last month: With Zack Greinke having thrown 110 pitches and allowing no hits but walking the first batter in the top of the ninth of his 2015 debut, readers gave a slight edge to leaving him in rather than putting in Kenley Jansen. A sample: