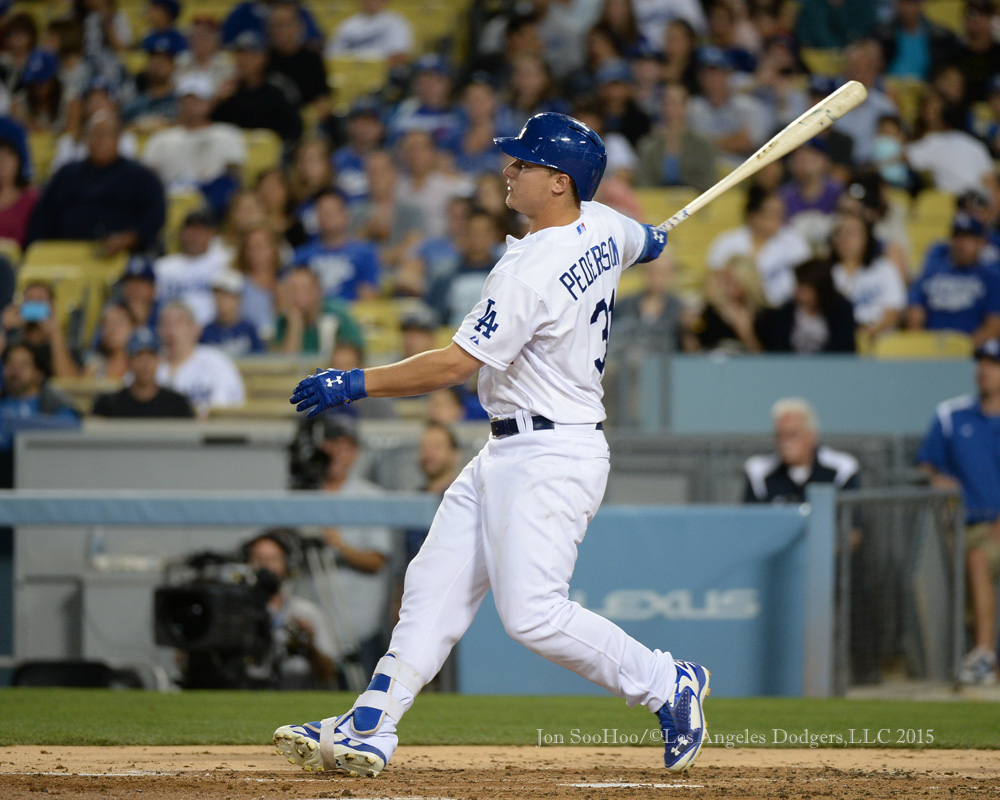 Dodgers at Giants, 7:15 p.m.
Joc Pederson, CF
Jimmy Rollins, SS
Howie Kendrick, 2B
Adrian Gonzalez, 1B
Scott Van Slyke, LF
Yasmani Grandal, C
Andre Ethier, RF
Alex Guerrero, 3B
Carlos Frias, P
By Jon Weisman
Joc Pederson is in his first slump of the 2015 season, though oddly, he's been making better contact than when he was hot.
Through May 7, when talk of him being the ultimate Three True Outcomes hitter was peaking, Pederson had nine home runs, a .427 on-base percentage and a .674 slugging percentage, while striking out in exactly one third of his plate appearances (37 of 111).
May 7 was the day at Milwaukee that Pederson walked twice and then singled in the ninth inning, ending his streak of seven consecutive hits that were home runs. It was quite the transitional moment.
Since then, Pederson is 4 for 31 with one homer and five walks, but he has struck out a relatively reduced 21.6 percent of the time (eight times in 37 plate appearances).
Pederson has a .136 batting average on balls in play in those nine games, compared with a .350 BABIP in his first 28.
In his past five games, Pederson has been particularly unlucky. Across 19 plate appearances, Pederson has one homer, one hit-by-pitch, two strikeouts — and, on balls in play, one single and 14 outs (seven flies, seven grounders).
On top of everything else, he has zero walks in his past 26 plate appearances — the longest walkless stretch of his young career.
It's almost as if Pederson wanted to reverse the conversation about himself. Baseball's Three True Outcomes poster child has gone to the opposite … set of posters.
Perhaps a happy medium awaits.