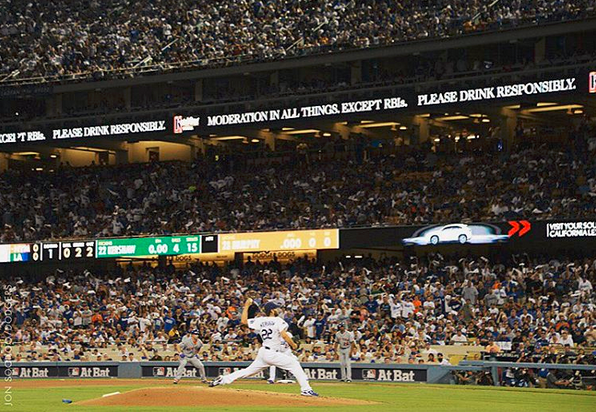 By Jon Weisman
A scorching, sweating, exhausting night at Dodger Stadium tore open old wounds.
Once more, the Dodgers received six brilliant innings from Clayton Kershaw, just as they did in both his 2014 playoff starts. And once more, the Dodgers are nursing a bruising defeat.
Mets righty Jacob deGrom struck out 13 in his seven shutout innings (tying Tom Seaver's 42-year-old postseason franchise record), shut down a few early Dodger threats and carried New York to a 3-1 victory in Game 1 of the National League Division Series.
Strikeouts came at a blistering pace. Never before in MLB history had two pitchers in the same postseason game struck out at least 11 batters, and Kershaw got there first. The lefty fanned two batters in each of the first four innings and the side in the fifth.
For deGrom, the first six outs were whiffs, and he had 10 through the fifth inning. The game was barely halfway over, and it was the first time since Game 5 of the 1944 World Series that two playoff pitchers had double-digit strikeouts.
DeGrom allowed six baserunners in his first four innings, but two of those threats came from the bottom of the Dodger order, leaving Kershaw to bat twice with two runners on. Kershaw struck out the first time, but in the fourth, he launched deep drive to left center that Yoenis Cespedes had to run and flag down at the warning track. If only.
Kershaw and the Dodgers desperately needed that drive to land. To start the inning, New York second baseman Daniel Murphy tallied what it appeared might be the only run of the game, a no-doubt 415-foot shot to right field.
For six innings, Murphy was the only Met to make it past first base. Kershaw has now made nine postseason starts, and allowed two runs or less in the first six innings of seven of those nine outings.
His night ended in a teeth-clenching seventh inning, the inning that was twice his downfall in the 2014 playoffs, when he walked Lucas Duda, and one out later, walked Ruben Tejada on a 3-2 pitch, and one out later, walked Curtis Granderson on another 3-2 pitch — Kershaw's 113th and last of the game.
Pedro Baez entered to face David Wright with the bases loaded. Baez (throwing 97-99 mph) and Wright went to a full count, when Wright then lined one past a diving Howie Kendrick into center field to triple the Mets lead.
It was Baez who replaced Kershaw in Game 1 of the 2014 NLDS and gave up a walk and a three-run home run to Matt Holiday.
DeGrom finished strong, retiring the final 11 batters he faced and striking out pinch-hitter Chase Utley on the 27-year-old's 121st pitch of the game.
"I thought we did a pretty good job with him of not chasing the change or the breaking ball down," Don Mattingly said, "but with that you end up chasing some elevated fastballs, and I think he beat us with that a little bit. We had a few chances. We got some runners, (Justin Turner)  got on a couple times. They had a little rally going. We just weren't able to get that hit early."
Kershaw's analysis was more succinct.
"I got outpitched," Kershaw said. "That's basically the moral of the story. Jacob pitched an amazing game."
After reliever Joel Peralta pitched a perfect top of the eighth, the Dodgers broke through against Mets reliever Tyler Clippard on a double by Kendrick and a single by Adrian Gonzalez.
Chris Hatcher then pitched a perfect ninth, bringing up the Dodgers' final chance. Andre Ethier grounded out, as did pinch-hitter Jimmy Rollins (thanks to a diving stop by Murphy), as did Joc Pederson, and that was the game.
"I think we're capable of bouncing back because we've got Zack Greinke pitching tomorrow," Ellis said, "and that's gonna help us, first and foremost. But there are some guys in this clubhouse who have had their backs against the wall. Guys with a lot of pride, who want to come out and even this thing up. We're not finished with what we want to do this year."