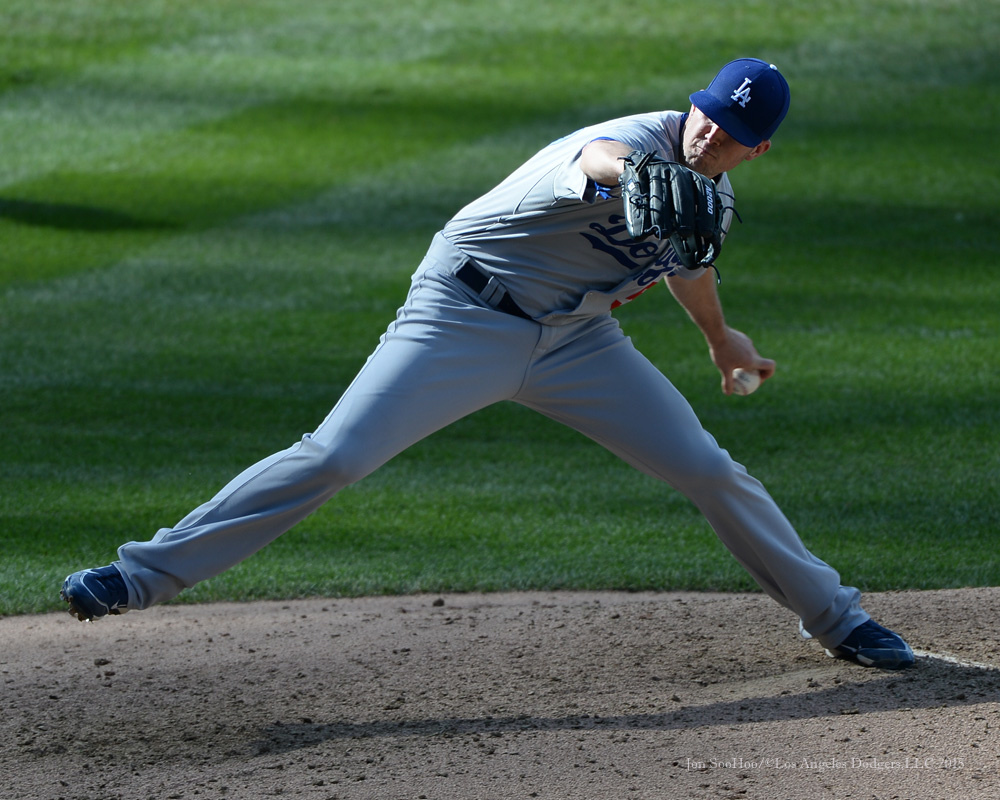 By Jon Weisman
When he got on the phone late last week, Alex Wood was on his way to a wedding, an event that has become as regular as a turn in the starting rotation.
"A lot of teammates and friends are getting married, so on the weekends I have a lot of weddings and different things going on," Wood said. "I had a bachelor party last week and a wedding this weekend, wedding next weekend, wedding the weekend after. The next three weekends I've got weddings."
Inevitably, baseball players become experts at weddings — especially arranged marriages, like the one Wood found himself in July 30 when Atlanta traded him to the Dodgers. In some ways, the honeymoon is over, but in other ways it hasn't yet begun.
By his own assessment, Wood disappointed as a Dodger newlywed. Coming off a 2.78 ERA with Atlanta in 2014 and a 3.54 ERA in 20 starts with the Braves to begin the 2015 season, the 24-year-old left-hander slipped to a 4.35 ERA with Los Angeles. His fielding-independent ERA rose from 3.19 last year to 4.02 in 2015.
By September, it was confounding. Wood was dominant one day, dominoed the next.

"I still had a pretty decent year, but for me, it wasn't up to the standards that I've kind of set for myself," Wood said. "It was a good year, but it was the worst year I've had so far.
"I was really, really good some outings, and then I had some bad outings. For me, I've always founds my success in the consistency of my performances."
Wood said the problem wasn't physical but "100 percent mechanical," though not for the reason you might think — that is, his whip-it, whip-it-good pitching style.
http://www.mlb.com/images/5/2/0/157558520/alex_wood_k1_mid_59s91i7y.gif
"It's funny — the way I throw is a little different than your cookie-cutter guy, but at the same time, I've never really had to think about my mechanics," Wood said. "I've never got into bad habits that I couldn't really take care of during the season. That was really a first for me during this past season."
As a result, he had trouble regrouping when he ran into trouble.
"The toughest thing about being a starter in the big leagues, or at any level in the minor leagues, is when you get into some bad habits, it's very hard to fix them in season," Wood said. "You just kind of have to figure out what you can do to have the most success possible with what you've got to work with right then and there.
"That's why what I was most excited about this offseason is ironing out those few mechanical things and getting right heading into Spring Training."
Wood believes that in working through those struggles will not only improve his ERA, but also help reverse a strikeout rate that fell from 8.9 per nine innings in 2014 to 6.6 last year.
"At the end of the day, it's about putting zeroes up," Wood said. "But at the same time … I thought my strikeout rate probably went hand in hand with the one or two mechanical things I had going on. And I think that was obviously where it took the biggest hit."
Offseason, on season
When he isn't watching friends say "I do," Wood has been busy getting ready for 2016. After the Dodgers were eliminated from the National League playoffs, he allowed himself one week of doing "a whole bunch of nothing," then jumped right into it.
Wood comes across as someone who looks forward to the offseason, rather than dreading the grind. And since recovering from 2009 Tommy John surgery, the year he graduated from high school as North Carolina's state 4A player of the year, he said no health concerns have held him back.
"Every year, I try to kind of take pieces of what I did in the past and incorporate them into the offseason and obviously try new things," Wood said. "I've kind of mapped it out into what works for me: how many lifts to get in a week, how many metabolic, cardio-type things to get in a week, things of that nature.
"So it's been really good. I was excited. Obviously, it stunk that we got knocked out when we did, but I always anticipate the offseason because I feel like I can always get better than I was before."
[mlbvideo id="485496183″ width="550″ height="308″ /]
It should also serve Wood well mentally to be a Dodger from Day 1 in 2016, after what was, in a sense, a shotgun marriage.
It's not that his feelings about Los Angeles weren't positive. In his initial conversation with reporters after the trade, he recalled how he had spoken with his agent about a week before about the possibility of playing for the Dodgers someday.
"My first road trip I ever took in the big leagues was to L.A., and I always really, really enjoyed the atmosphere there and the fans," Wood said, "They pack out every night, and obviously the weather — you just can't beat it, so once I got settled in and found a place to live after the trade, I really enjoyed it, surrounded by great guys like Zack Greinke, Clayton Kershaw and Brett Anderson and down the line. A lot of great baseball players, baseball minds."
But Wood couldn't have prepared himself for how much a trade — in and of itself — can rock your world.
"At first, it was really tough emotionally for me," he acknowledged. "I spent my whole career with Atlanta and kind of established my life there. I think any player in anybody's system will tell you that the first team that you're with, you kind of learn the ins and outs, and you establish those close relationships with staff and players and teammates and front office and so on. I don't think anybody likes to think that they're ever going to leave the place they start."
Wood indicated that, at least in the initial starts of his post-Braves career, he might have put pressure on himself.
"The thing (also) about being with an organization for a while," he said, "you establish yourself in the big leagues with that team and kind of earn the respect of your teammates and everybody that has anything to do with that organization, and they know what you're capable of. The biggest thing for me when you get traded is guys know what you've done, but at the same time it's like you're making your debut again, and you have to show your new teammates and the front office and the coaching staff why they traded for you and so on. Hopefully I was able to do that, and hopefully I'll be able to do so even more the coming year."
http://www.mlb.com/images/4/0/0/157560400/alex_wood_k2_mid_rd21he3h.gif
Statistically, Wood appeared to have an immediate comfort zone in Dodger Stadium, where in the home whites he had a 2.41 ERA and 0.80 WHIP in five starts, compared with 6.14/1.33 in the road grays. But he seemed to feel that disparity was mainly a fluke.
"At the end of the day," Wood said, "the plate's still 60 feet, six inches away. It doesn't really matter where you are. Obviously, you have the select few, like Arizona and Colorado and some of those — obviously they're in our league too — but at the same time you've still got to go out and take care of business whether you're home or on the road."
There's no doubting Wood's ambition.  He's a competitor — one who never likes being taken out of games, and who aspires to greatness. He's taken note of Kershaw's work ethic, Greinke's intellect, and integrated them with the role models from his (relatively speaking) youth.
"I always loved Tom Glavine, (and) Johan Santana was one of my favorites," Wood said. "My dad's from New York, so he's a Mets fan, so I used to always watch the Mets and Braves growing up. … I wanted to have both of their changeups."
A rough two innings out of the bullpen in NLDS Game 3 against the Mets constituted his only action of the past postseason. He's already thinking about next year, and a happier walk down the aisle.
"I've always been someone who wants to do whatever it takes to help the team," he said. "At the end of the day, you want to be part of it in any way possible, and I'm grateful to have that opportunity. Next year, hopefully I'll get to play even more of a role."