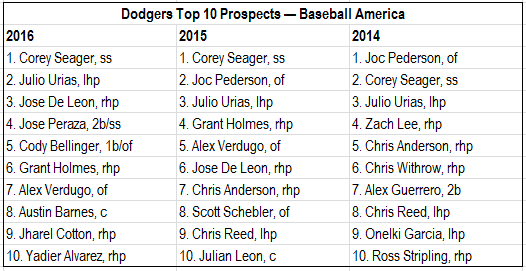 By Jon Weisman
Baseball America's annual ranking of Dodger prospects actually comes early this year — the 2015 rankings were published 10 months ago — and comes with five names that weren't on the preseason 2015 list.
Joc Pederson graduated from prospect status, but Corey Seager remains a rookie despite his impressive September debut, allowing the Dodger infielder a second consecutive year in the No. 1 slot. Julio Urias moves up a spot accordingly to No. 2, while right-hadner Jose De Leon leapfrogs into the No. 3 spot.
The top newcomer on this year's list is infielder Jose Peraza, acquired from Atlanta in the big July 30 deal. "Peraza lacks a high ceiling," Baseball America's Ben Badler writes, "but his bat-to-ball skills and wheels should make him a steady player in the middle of the diamond." In the list of best tools in the Dodger minor leagues, Peraza is called the organization's top athlete.
Making the biggest leap internally is first baseman-outfielder Cody Bellinger, who skipped Great Lakes after hitting three homers with Rookie League Ogden in 2014 and hit 30 for High-A Rancho Cucamonga in 2015. The 20-year-old is also labeled the best power hitter in the system.
"Bellinger used to gear his swing for line drives, but he made a mechanical adjustment in 2015 to put his body in a better position to create torque," Badler wrote in his analysis. "Toward the end of 2015, he began to study heat maps to understand his own strengths and weaknesses, and he condensed his trigger slightly."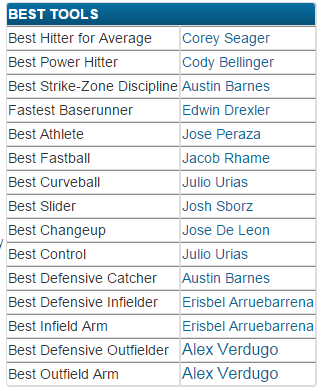 Grant Holmes was pushed down two spots to No. 6, despite a solid season (3.14 ERA, 10.2 strikeouts per nine innings), and teammate Alex Verdugo had a similar slip despite a second-half rally that propelled him to winning Dodger Minor League Player of the Year honors.
Three new additions to the top 10 round out this year's list: disciplined catcher Austin Barnes and promising pitcher Jharel Cotton — both of whom seem ready to contribute to the big-league club in 2016 — and Cuban signee Yadier Alvarez, who won't turn 20 until March. "Alvarez is a volatile stock whose value could swing wildly by this time next season," Badler said. "Some scouts dream of a potential frontline starter, while others see a bullpen arm with a lot of risk."
Falling off the list from pre-2015 are Chris Anderson, Scott Schebler and Julian Leon. Anderson lowered his ERA and WHIP while moving up to Double-A Tulsa in 2015, but his strikeout rate suffered and he struggled more statistically in the second half.  Schebler turned in a solid year with Triple-A Oklahoma City and hit three homers in 36 at-bats for the Dodgers. Leon's OPS fell from .985 with Ogden in 2014 to .567 with Great Lakes in 2015.