By Jon Weisman
It's hard to be a sports fan in Los Angeles and not be affected by the end of Kobe Bryant's career. Twenty seasons in a Los Angeles uniform? For one attempt at perspective, here's the Dodger starting lineup on June 26, 1996, the day the 17-year-old Bryant was drafted.
Delino DeShields, 2B
Roger Cedeno, LF
Mike Piazza, C
Eric Karros, 1B
Raul Mondesi, RF
Mike Blowers, 3B
Todd Hollandsworth, CF
Greg Gagne, SS
Tom Candiotti, P
Candiotti, the starting pitcher that day, is now 58 years old.
On the way to work this morning, I asked myself who would be the Dodgers' closest equivalent to Bryant, a spectacular, championship-winning (future) Hall of Famer who wore only one team's uniform (albeit with two numbers). It won't surprise you that there's no exact match, but I do think there's a closer one than you might realize.
Sandy Koufax and Roy Campanella are Hall of Famers, but their careers were sadly cut short.
Gil Hodges, Duke Snider, Don Sutton and Zack Wheat had the longevity and excellence, but didn't go from start to finish with the Dodgers.
Bill Russell and Jim Gilliam each played in the neighborhood of 2,000 games with the Dodgers and no one else, but while occasional All-Stars, they weren't Hall of Famers.
Don Drysdale is an interesting possibility, making his debut as a teenager and pitching more than 3,400 innings in a Hall of Fame career, but he was done at 32.
How about Jackie Robinson? Though he played until age 37, the problem is that he doesn't even make his Negro League debut until age 26 and Dodger debut at 28.
Fernando Valenzuela's career has something in common with Bryant's, but his final big-league game came nearly seven years after the Dodgers cut him loose.
There is one player, however, who joined the Dodgers at a tender age, played with them his entire career (finishing as the team's elder stateman), was a superb all-around player who reached the Hall of Fame, is the franchise's all-time most valuable player at a critical position, and is remembered for more than mere statistics.
That player is Pee Wee Reese.
[mlbvideo id="3981243″ width="550″ height="308″ /]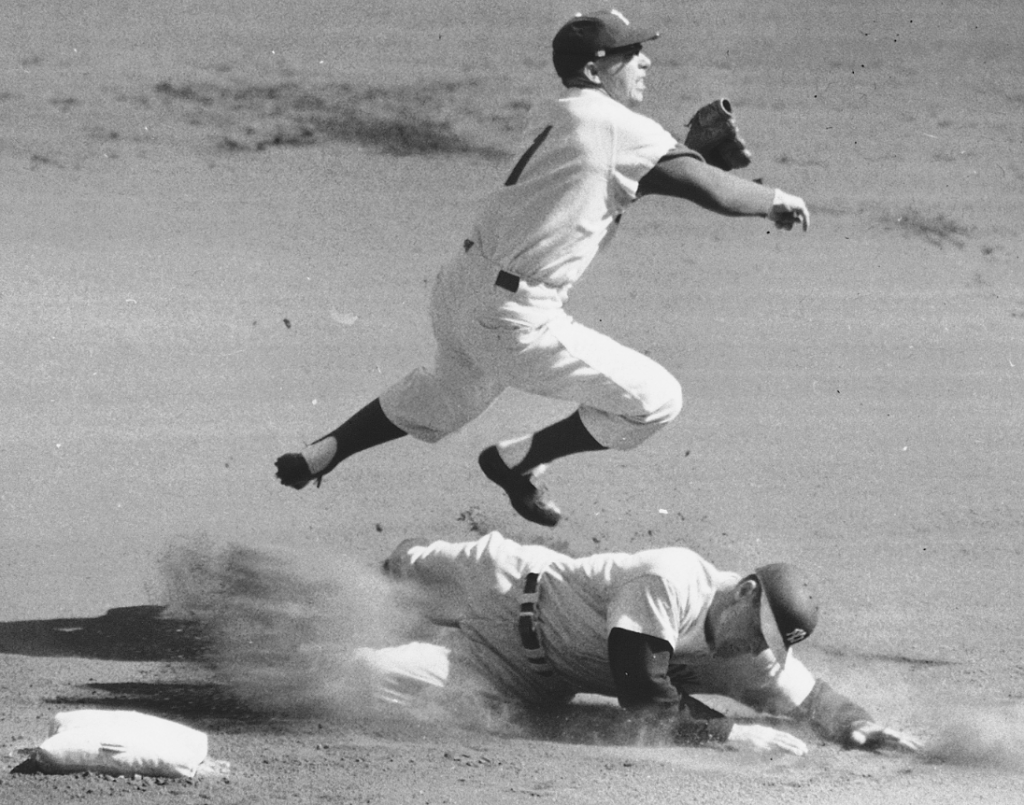 Now, maybe a 5-foot-10 shortstop born 97 years ago in Kentucky doesn't strike you as the natural equivalent to one of the most spectacular players in NBA history. Though he was a 10-season All-Star, he was never a Most Valuable Player; though he was in seven World Series, he popped the champagne only once. And if it matters, Reese played all but one of his seasons in Brooklyn.
But Reese was a dynamic player, and probably comes closest to matching the long-term importance to a major Los Angeles franchise that Bryant has had.
If the retirement age isn't as important to you, maybe Drysdale makes more sense. If you're less concerned about a final season or two played elsewhere, Snider could be your guy. Maybe you throw out everything but electricity and go with Koufax, Robinson or Valenzuela. And clearly, if there's one current Dodger who could become their version of Bryant, it's Clayton Kershaw.
But honestly, if Pee Wee Reese is the Dodgers' Kobe Bryant, I think that's a compliment to both players.