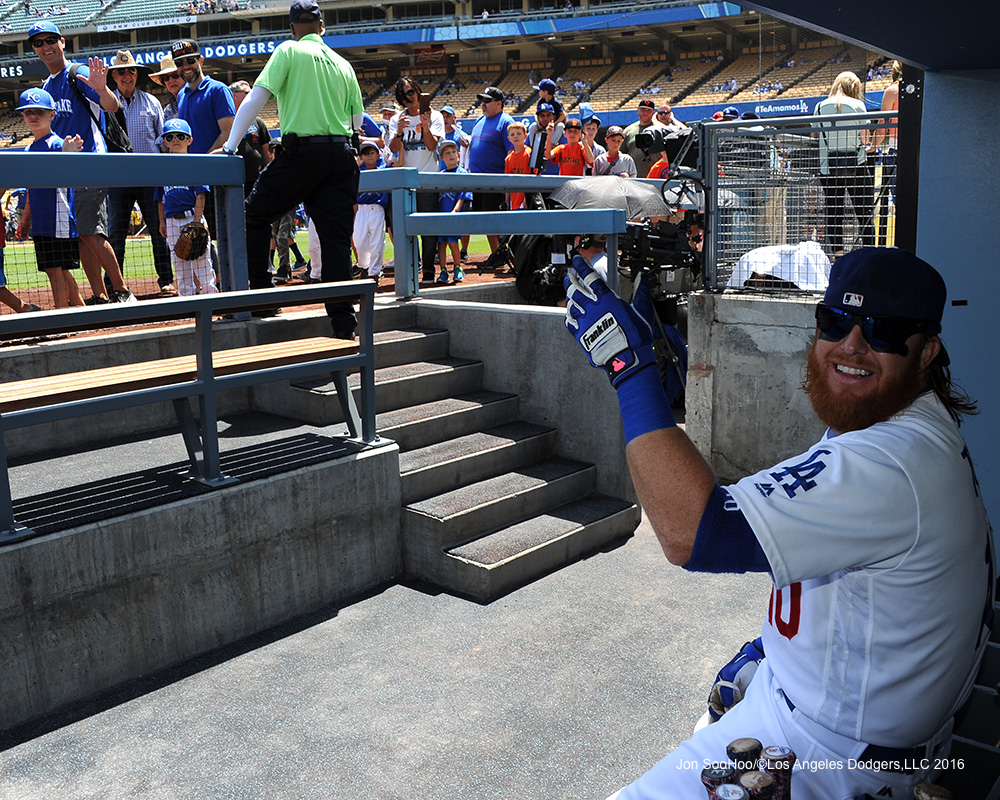 Mets at Dodgers, 7:10 p.m.
Kiké Hernandez, LF
Howie Kendrick, 2B
Adrian Gonzalez, 1B
Justin Turner, 3B
Yasiel Puig, RF
Trayce Thompson, CF
A.J. Ellis, C
Charlie Culberson, SS
Scott Kazmir, P
By Jon Weisman
When Justin Turner hit his first homer of 2016 on Saturday, it capped his best four-game stretch of the season.
Turner went 6 for 16 with two doubles, two walks and the homer, raising his OPS from .631 to .714. Though Turner went 0 for 3 with a walk Sunday, Dave Roberts didn't think the uptick in numbers was a fluke.
"I think that Justin made a couple of mechanical changes with his swing, and he said he was close, and in Tampa it clicked," Roberts said. "He stayed above the baseball a little bit better, not missing pitches in the hitting zone, and it was just a matter of time for JT. He worked something out, and that little minor adjustment was big not only for him but for us."
The timing of a Turner resurgence couldn't be better for the Dodgers, considering that Turner was their best weapon against New York in last year's National League Division Series. He went 10 for 19 with six doubles, tying an MLB record for the most doubles in a postseason series.
The Dodger offense averaged 5.2 runs per game on last week's five-game road trip, but will be tested over the next four games by a Mets pitching staff that leads MLB with a 3.14 fielding-independent pitching mark. Left-hander Steven Matz starts things off tonight, followed by a succession of right-handers in Jacob deGrom, Noah Syndergaard and Babetolo Colon.
In other news:
Casey Fien, acquired Saturday by the Dodgers from Minnesota, was optioned to Triple-A Oklahoma City.
Julio Urias pitched six more shutout innings today for Oklahoma City, and they came at the professional park with the highest altitude in the United States — Security Service Field at Colorado Springs. Urias allowed seven baserunners and struck out four, and now has a 1.50 ERA with 33 strikeouts against 25 baserunners in 30 innings.
Alex Verdugo hit two homers and drove in six runs in the first two innings of Double-A Tulsa's 10-0 victory over Springfield today. Verdugo added an RBI single in the fourth.