Angels at Dodgers, 7:05 p.m.
Chase Utley, 2B
Justin Turner, 3B
Corey Seager, SS
Howie Kendrick, 1B
Joc Pederson, CF
Trayce Thompson, LF
Yasmani Grandal, C
Yasiel Puig, RF
Carl Crawford, DH
(Ross Stripling, P)
By Jon Weisman
Mike Bolsinger will return to the minor leagues after making a spot start Wednesday for the Dodgers, with reliever Chin-hui Tsao joining the roster from Triple-A Oklahoma City.
Tsao, who turns 35 in June, has a 3.31 ERA and 1.35 WHIP with 14 strikeouts in 16 1/3 innings this season, and has been unscored upon in his past eight appearances.
Last year, returning to the Majors after an eight-year absence, Tsao pitched seven innings for the Dodgers, with a 2.84 ERA in his first four games before allowing six runs in two-third of an inning July 25 against the Mets. He also doubled in his only at-bat.
Making his first MLB start in nearly eight months and his first since recovering from a March oblique injury, Bolsinger went 4 1/3 innings and was charged with two earned runs in the Dodgers' 8-1 loss to the Angels, allowing nine of the 21 batters he faced to reach base, while striking out two.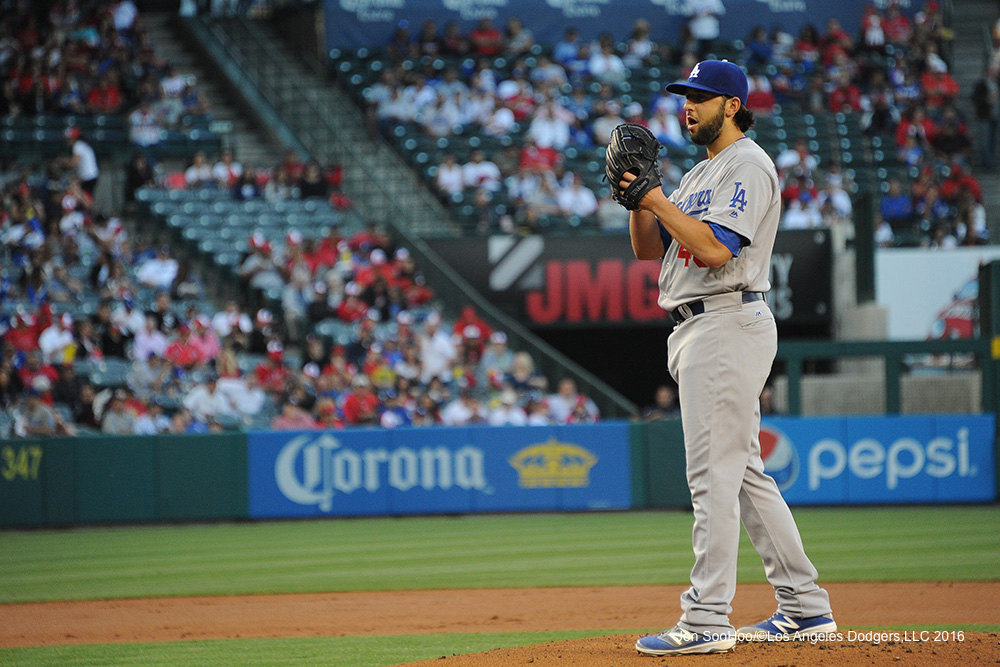 With the score tied, 1-1, in the fourth inning, and a runner on third, Bolsinger got Carlos Perez and Brendan Ryan to pop out — meaning that the Angels had stranded six runners since Mike Trout's first-inning home run.
But after Yunel Escobar singled to start the bottom of the fifth and Trout walked with one out on Bolsinger's 69th pitch, the Dodgers went to the bullpen.
According to Jack Baer of MLB.com, Bolsinger was working without his fastball for most of the game.
"I think the only thing that was working for me was my slider," Bolsinger said. "After the second inning, I think I threw four fastballs the rest of the game. Every pitch was a slider. I was working off one pitch."
When Louis Coleman entered the game for the Dodgers, right-handed batters were 3-for-38 against him on the season. After walking Albert Pujols, Coleman induced two ground balls. C.J. Cron's found the right spot for an infield single, Johnny Giovtella's spun away from Howie Kendrick for an error, and when Rafael Ortega hit a sinking drive in front of a diving Trayce Thompson for a double, the floodgates had opened.