By Jon Weisman
Regrouping after throwing 582 pitches in three games at San Diego — and losing one of their pitchers to the disabled list in the process — the Dodgers are bringing up two fresh arms for their pitching staff.
Luis Avilan will come up from Triple-A Oklahoma City to rejoin the Dodger bullpen, while Mike Bolsinger has made the same journey to be the starting pitcher Tuesday for Los Angeles.
Bolsinger started May 18 for the Dodgers, throwing 4 1/3 innings in his MLB season debut.
Avilan's overall numbers in the minors this year (4.97 ERA, 1.74 WHIP) aren't compelling, but left-handed batters are 2 for 14 with two walks against him. Last month, he pitched for the Dodgers in three straight games at Colorado, allowing five of seven batters to reach base.
The numbers game also forces Ross Stripling, originally scheduled to start Tuesday before he pitched three shutout innings to help clinch the Dodgers' 7-6, 17-inning win Sunday, to be optioned to Triple-A. He'll be down there for at least 10 days, barring another Dodger injury. In reality, he might miss only one start, given that with an upcoming off day, he wasn't necessarily going to take the mound again until early next week.
Stripling has a 4.53 ERA (3.68 FIP) in 45 2/3 innings this season with 6.7 strikeouts per nine innings.
But the more downbeat news went to Chin-hui Tsao, who is going on the disabled list with a right triceps strain. Tsao couldn't come close to finding the strike zone in walking the last three batters he faced Saturday in the Dodgers' 3-2, 11-inning loss, and then reported to work Sunday unable to pitch.
The Dodgers benefit by having Clayton Kershaw start the night after playing their most innings in nine years, but even though Kershaw has pitched at least seven innings in each of his nine starts this season, the Dodgers can't assume he'll throw a complete game. And this is the state of their bullpen heading into this evening, looking at their pitch counts over the past six games: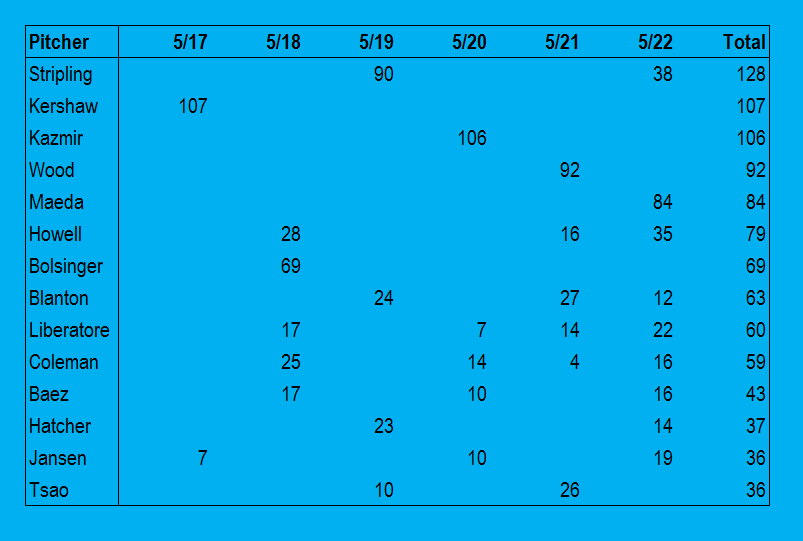 Louis Coleman and Adam Liberatore have pitched in three games in a row.
J.P. Howell threw 35 pitches Sunday, his most in a game in nearly three years, a day after throwing 16.
Joe Blanton has thrown 39 pitches in the past two games and 63 in the past four.
Outside of Avilan, that leaves right-handers Kenley Jansen, Pedro Baez and Chris Hatcher as the freshest available arms. None pitched Saturday, and none passed the 20-pitch mark Sunday.