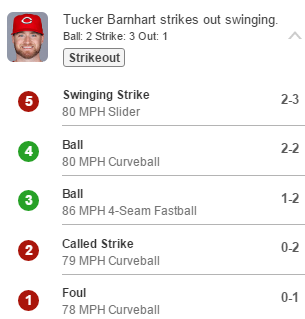 By Jon Weisman
Mike Bolsinger's offspeed was on point tonight.
Working primarily with a curve and slider in the 80 mph-and-below range, Bolsinger pitched a solid 5 2/3 innings, and the Dodgers extended their winning streak to three with a 8-2 victory over Cincinnati.
In his second big-league start of the season, Bolsinger struck out six and allowed three hits, blemished only by a two-run home run by Adam Duvall that cleared Joc Pederson's glove by inches.
Bolsinger left the game after 85 pitches when he walked Brandon Phillips with left-handed hitting Jay Bruce on deck. Luis Avilan retired Bruce — the first of 10 consecutive outs from him, Joe Blanton, Pedro Baez and Adam Liberatore to end the game — and the Dodgers padded their 3-2 lead with two runs in the sixth and three more in the eighth.
The Dodgers' first three hitters, Chase Utley, Corey Seager and Justin Turner, each reached base three times, including consecutive singles for an opening run in the first inning. Turner had a season-high three hits and three RBI.
It was the biggest win margin for the Dodgers since their 7-0 victory at San Diego on April 6.