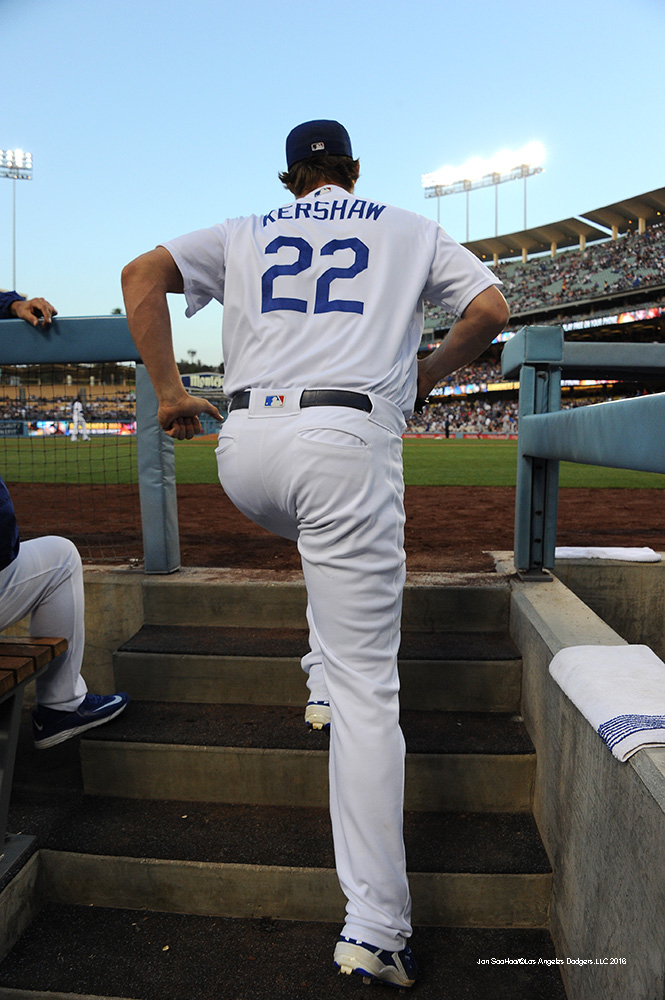 By Jon Weisman
No matter what crazy, crazy heights Clayton Kershaw achieves in the regular season, for some, it will always be about what he hasn't done in the playoffs.
Even after he's done well in the playoffs.
No, Kershaw hasn't won a World Series yet, and no one (least of all him) questions whether that's the ultimate prize. But anyone paying attention should notice that the narrative of Kershaw as a postseason failure doesn't hold up.
His 3-1 victory on three days' rest in New York last October in Game 4 of the National League Division Series confirmed — not for the first time — Kershaw's ability to deliver in the fall, but there are still those who don't even acknowledge it.
So here I am, back again. I've done this before, but let's recap, from good to bad.
Since becoming the ace of the Dodger staff, Kershaw has made eight playoff starts. In the process, Kershaw has …
allowed one earned run or less in half of them.
allowed three runs or less in all but two of them.
made three starts on three days' rest, totaling 19 innings, with a 1.89 ERA and 23 strikeouts against four walks.
There are three major blemishes on Kershaw's postseason record, and no one's suggesting they should be ignored.
At age 21, after allowing two runs in 6 2/3 innings in the 2009 NLDS, he pitched in the opening game of the '09 National League Championship Series. He began with four shutout innings, before allowing five runs in the fifth.
There was the disaster start in Game 6 of the 2013 NLCS, when Kershaw was charged with seven runs on 10 hits in four innings.
In Game 1 of the 2014 NLDS, Kershaw went into the seventh inning against the Cardinals and shockingly surrendered a 6-2 lead.
Then, there are three playoff games in which Kershaw took the loss, but the story that day was really the Dodger offense.
In Game 2 of the 2013 NLDS, Kershaw allowed all of three baserunners, but one scored an unearned run on a passed ball and a sacrifice fly, and the Dodgers lost, 1-0.
Pitching shutout ball on three days' rest into the seventh inning of the 2014 NLDS, Kershaw allowed two singles that barely eluded infielders, and then a home run. Though he had outpitched Shelby Miller in terms of baserunners allowed, Kershaw took a 3-2 loss.
In Game 1 of the 2015 NLDS, Kershaw was trailing 1-0 in the seventh inning when the strike zone betrayed him. He walked three batters, and then David Wright singled off reliever Pedro Baez for what proved to be the decisive runs in a 3-1 defeat.
This is not an apology for Kershaw's postseason performance. This is just part of an ongoing effort to set the record straight, in a world in which …
the slaughter in his fourth playoff start of 2013 is always remembered, but a 0.47 ERA in the first three starts is quickly forgotten.
his 4.59 career playoff ERA (dating back to age 20) is always remembered, but the 2.25 ERA in the first six innings of his playoff starts since 2013 is quickly forgotten.
the seventh-inning Matt Adams' homer in a do-or-die 2014 game is always remembered, but the seven innings of one-run ball in a do-or-die game in 2015 are quickly forgotten.
Kershaw has been great in the postseason. And he has been awful. And he has been in between. He has been good enough to win, without actually being a winner. His playoff work doesn't fit a simple, all-or-nothing story.
You can say he hasn't won the big one. But you can't say he hasn't won some big ones. He has been punished for his postseason sins (0-5 when he allows more than two runs), but never rescued when he deserved better. And he really has deserved better.
So what am I asking for? I'm asking for help. I'm asking people, in this city and elsewhere, not to poison the appreciation of Kershaw's career — and in particular, his unreal 2016 to date — with the tired notion of him as a postseason failure.
I'm asking people to actually understand the whole of what he's done, rather than pick bits here and ignore pieces there.
He hasn't been perfect. Success hasn't happened as much as he, most of all, would want. The disappointments, to be frank, have been crushing. Nevertheless, Kershaw has given us plenty to believe in for October.
He's a remarkable pitcher, plain and simple.