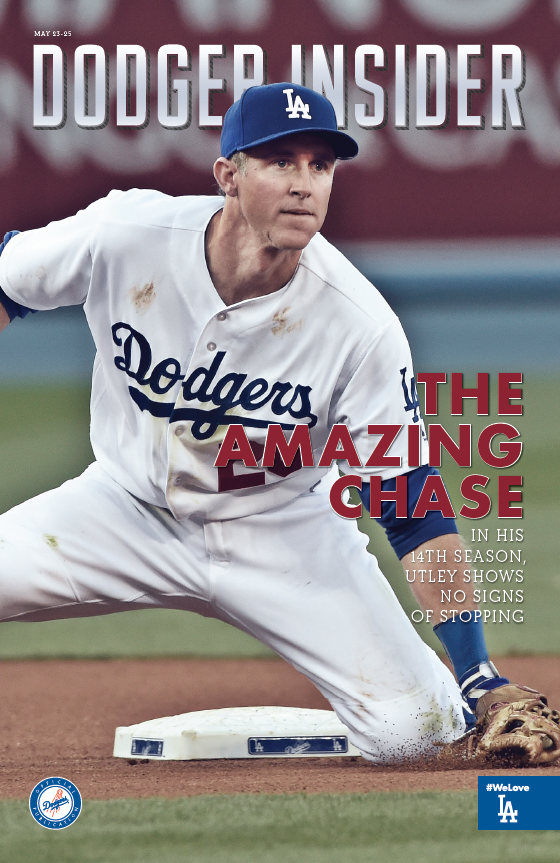 In the cover story of the most recent Dodger Insider magazine, we explored the resurgent — or maybe he's just always surgent — Chase Utley.
For the 36th time this season, Utley is the leadoff hitter for the Dodgers. He leads the Dodgers in on-base percentage, but he does so much more.
"I've always taken pride in playing hard," Utley told our Cary Osborne. "That's something you have to do on a daily basis. It's not the easiest thing to do, especially over the course of years and years and games and games. But if you're able to have that mindset every game, you get the most out of yourself and therefore give your team the best chance to win."
Said Corey Seager: "I watched him when I grew up. I had a buddy I played with forever who's from Philadelphia and grew up a Phillies fan. … To be able to sit beside (Utley) is still cool. I still talk about it with my friend. I walk in every day, and he's sitting there and he's always there before you. He's that kind of guy."
Read the entire story by clicking here.
Beginning this year, the Dodgers merged their previously separate Playbill and Dodger Insider magazines into one publication (at least 80 pages per issue) with a new edition available each homestand plus one in October, 13 issues total. It is distributed at auto gates (one per vehicle) and via Fan Services for those who use alternate transportation. Dodger Insider magazine includes news, features, analysis, photos, games, stadium information and more. Fans who still wish to subscribe can do so at dodgers.com/magazine.