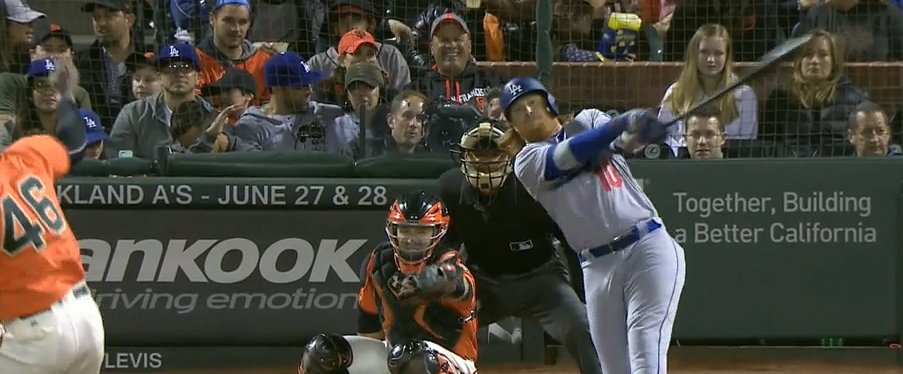 By Jon Weisman
Yep. Uh-huh. Yeah.
You figured Clayton Kershaw would pitch well at San Francisco. He did. You figured the Dodger offense would struggle at San Francisco. It did.
But how would it end?
Thanks to Justin Turner's heroics, happily for the Dodgers.
Turner's ninth-inning home run off Santiago Castilla — the Dodgers' first hit since the first inning — made a winner of Kershaw and Los Angeles over Johnny Cueto and the Giants, 3-2.
After taking a 5-0 lead in the first inning against Cueto on April 10 — and losing — the Dodgers made an early move again, opening tonight's game with two runs before there were two outs. The way it unspooled was Wes Anderson quirky.
Cueto's second pitch of the game hit leadoff hitter Chase Utley, who went to second on a cued infield single by Corey Seager. The runners moved up a base on a wild pitch, then yet another base when a twist by the Giants right-hander led to a shout of "Balk" by home-plate umpire D.J. Reyburn. One out later, Adrian González singled home Seager, and Kershaw had two tallies to play with.
The Dodger ace was almost completely dominant, as usual. He struck out 13 and walked none, putting his strikeout-walk ratio back to a mind-boggling 20.3. But the lead didn't hold.  While Cueto pitched seven perfect innings from the second through the eighth (save only a second HBP that grazed Utley's pants leg), the Giants did very little, but just enough make him scream.
With two out in the first inning, Matt Duffy hit his second home run of the season. This entire season, Kershaw has allowed five home runs. Three of them have been at AT&T Park. In his other 84 2/3 innings this season, only two batters have round-tripped against him.
The Giants almost tied the game in the fifth inning, backing Kershaw into a runners-at-the-corners corner with two infield singles and an error, but Kershaw wiggled out of it. It was the sixth inning that evened the score. With one out, Joe Panik singled, and with two out, Buster Posey doubled him in.
Aggravated but undaunted, Kershaw retired the final seven batters he faced — striking out five of them. The ninth inning began with Turner, and he lined a 2-1 pitch over the wall in left.
Kenley Jansen pitched the bottom of the ninth, and survived Posey's one-out, 388-foot fly to the wall in right-center, Brandon Belt's double to right and Gregor Blanco's walk to get the scorebook save, striking out Brandon Crawford on a full-count, 93 mph cutter.
Maybe he is a robot. Clayton Kershaw's WHIP for his career is now 1.0101.

— Dodger Insider (@DodgerInsider) June 11, 2016
Here's an amazing Clayton Kershaw stat tonight: He threw as many swinging strikes as he did balls — 30 each. pic.twitter.com/LqN7ar2bI3

— Positive Residual (@presidual) June 11, 2016
4/9 Kershaw at SF: eight innings, two runs, five baserunners, five K

6/10 Kershaw at SF: eight innings, two runs, five baserunners, 13 K

— Dodger Insider (@DodgerInsider) June 11, 2016