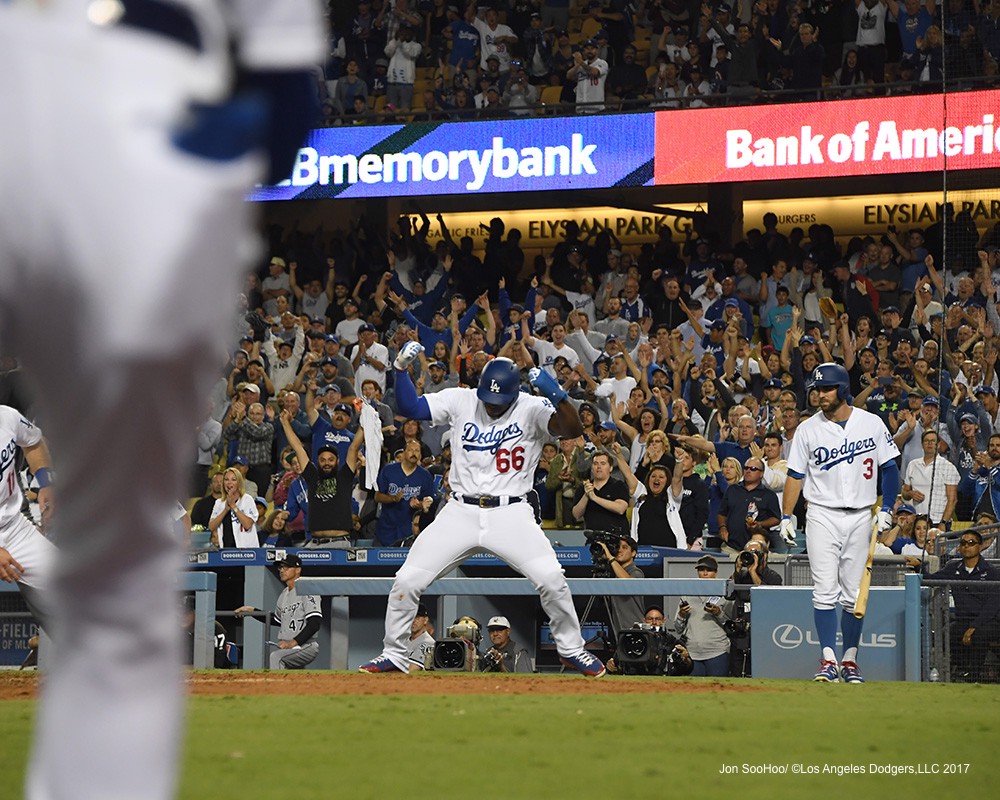 Hi there. It's been a while. The Dodgers appear to have been doing well. Hope you weren't waiting for me to tell you that here. Also, I finished the draft of the book on the Dodgers I started before I left for Showtime. It's coming out next spring, and you'll begin hearing details about it sometime in the next few months. Believe me, I won't be shy.
Anyway, I'm on a brief staycation and with a little free time, wanted to share some quick, you know, Dodger thoughts.
Rosterfarians
On September 1, MLB rosters will expand to a maximum of 40, and people will complain, as they do every year, about how the sport plays under a different set of rules for the final month of the season — as if having some extra benchwarmers is more significant than playing every game of the year with different ballpark dimensions, different conditions, different strike zones and for all we know, different baseballs.
Then in a month, the playoffs will start, truly radically reshaping what baseball has been for the previous six months, and people won't think twice. Bring on the madness.
If you're bothered by September roster sizes, consider that it is really the smallest of deals, and if nothing else, the sins are far outweighed by the benefit of giving some minor-leaguers a taste — perhaps their only taste — of the big time. Give me a new John Lindsey every September.
Roberts Rules of Order
Say you're a National League Manager of the Year voter. Casting your ballot for the Dodgers' Dave Roberts might seem too obvious, plus maybe you've got a thing about giving the award to the same guy two years in a row.
So you look around for alternatives. But who would they be?
Dusty Baker? His Nationals are where you'd expect them to be, which is a good thing, a feather in his cap. But if you're going to vote the manager of a division favorite, would you really pick the one whose team isn't having a legendary season?
Torey Lovullo or Bud Black? Arizona and Colorado have unexpectedly had the grip on a playoff spot the entire season with two of the top four records in the NL, filling the prescription of managers doing more with less. Checking that box in the same division as the dominant Dodgers is even more impressive. Since June 1, though, neither the Rockies or Diamondbacks have a winning record and both are in some danger of falling out of the wild card. Maybe one of these two wild-card contenders sprints to a proud finish, but still: Can you imagine giving the Manager of the Year Award to a skipper whose team was eliminated from the division race by the first week of September?
Don Mattingly? You laugh, but the oft-dismissed Marlins, are 41-31 since June 1 and have crept into the wild-card race themselves. It's no longer impossible Mattingly becomes the leading alternative to Roberts.
That's right: alternative. Like, second cousin once removed alternative. As hard as it might be to recall right now, not everyone expected the Dodgers to win their division — I point you to these predictions at ESPN as evidence — and certainly no one expected them to bust 90 wins before Labor Day. Roberts, who should tally his 200th career victory before his second season ends, has exceeded expectations every bit as much as his peers. His team is beyond extraordinary, and for all the Dodgers' front office wizardry, they unmistakably have his stamp, his persona.
Signs don't really point to a Dodger winning the NL Most Valuable Player or Cy Young Awards, but by my reckoning, Roberts is destined to become the first repeat winner of the award since Atlanta's Bobby Cox in 2004-05.
Rime of the Recent Mariners
The ceaseless warning beacon for the 2017 Los Angeles Dodgers has been the 2001 Seattle Mariners. They are the last MLB team to win 116 regular-season games, but 15 days later, their year collapsed under an American League Championship Series trouncing by the Yankees. New York didn't even need the full seven games, eliminating Seattle in five games with insult added upon injury, a 12-3 rout in the final contest.
So what happened? And is there anything Dodger fans can learn?
New York smothered the Mariners, holding them to 22 runs — nearly two-thirds of those in a 14-3 Game 3 victory. In the four losses, Seattle scored a total of eight runs, with only five extra-base hits.
Opening the ALCS at home, Seattle never led in Game 1 or Game 2, dropping a pair of games that in shallow retrospect look like pitching mismatches: Aaron Sele vs. Andy Pettitte, Freddy Garcia vs. Mike Mussina. But after blasting the Yankees in Game 3, the Mariners outlasted Roger Clemens in Game 4 and took a 1-0 lead in the top of the eighth inning, bringing them within six outs of evening the series. However, homers by Bernie Williams in the bottom of the eighth and Alfonso Soriano in the bottom of the ninth turned victory into devastating defeat.
In Game 5, a third-inning David Bell error opened the door for four unearned runs, and New York never looked back in its series-clinching romp.
What happened, then, is what always happens. A great squad suddenly finds itself hopeless at coming up with timely hits for itself or hiding them from the opponent. It's the same poison that afflicted the Dodgers in 10 of their 14 playoff series since 1988.
All a team can do is to be as prepared as possible. I can make a firm case that no team is better equipped to navigate these hazards than the 2017 Dodgers, but what would be the point of that argument? There's no inoculation against bad timing. Come October, we'll be on the edge of our seats, because baseball insists on turning its beautiful opera of a regular season into Battle of the Network Stars. The playoffs are thrilling but perilous. If the best regular season team in Dodger history doesn't win the World Series, it won't be a moral failing. It won't be a choke. It will be baseball.