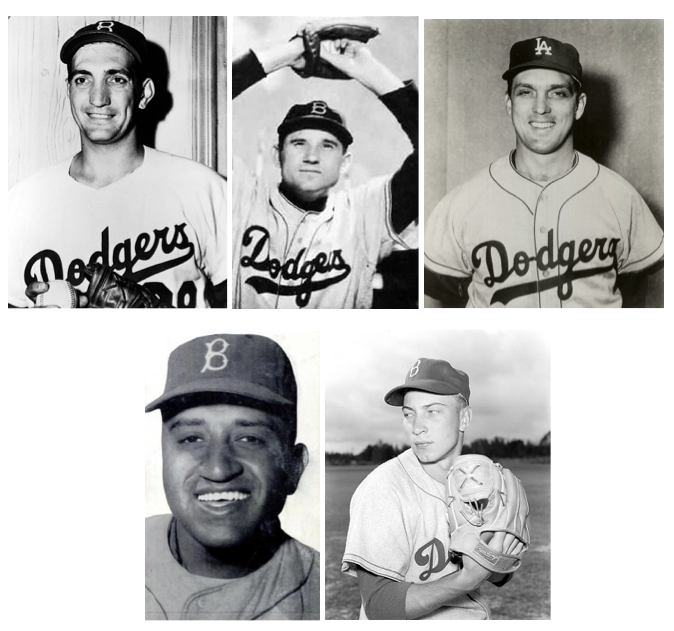 Hi again. Next in this series of teases for the May 1 release of Brothers in Arms: Koufax, Kershaw, and the Dodgers' Extraordinary Pitching Tradition (pre-order now!) is a preview of "Part One: The Kings of Brooklyn," focusing on the beginnings of the Dodger pitching tradition and running through the man who finished off the franchise's first World Series title.
The first chapter within Part One, and one that quickly underscores the book's mission, tells the story of Ralph Branca. To all too many Dodger fans of all ages, Branca is a symbol of failure, having allowed the Shot Heard 'Round the World to Bobby Thomson of the Giants that finished off Brooklyn's apocalyptic 1951 collapse. But there was so much more to Branca than that pitch, not only in terms of his own life and career but also his place in Dodger history. This chapter offers a way into the complete picture of Branca. Despite the negative association affixed to his name, Branca is the kindling for Dodger pitching greatness.
Moments in the Sun

Brief boxes in Part One on other noteworthy Dodger pitchers

• Ed Head
• Vic Lombardi
• Rex Barney
• Billy Loes
• Karl Spooner
Next comes Preacher Roe, whose reputation might be far more affirmative than Branca's, but who nevertheless battles a similar problem. The nom de guerre of Elwin Charles Roe is so unique — and so uniquely charming — that it tends to block any actual understanding of the man's talents. Following in the footsteps of Dazzy Vance, Roe became a top-20 pitcher in Dodger history despite not putting on the Brooklyn uniform until he was well into his 30s. The only trade acquisition in the first two chapters of the book, Roe still fits very much in the nascent Dodger pitching tradition as a Branch Rickey favorite. Back when he was general manager of the Cardinals, Rickey signed Roe out of college, and then after becoming Dodger team president, Rickey pursued Roe again, snagging him in a major trade after the 1947 season. A "supreme artist" on the mound according to Rickey and one who could spitball stories including stories about spitballs, Roe makes for a super second chapter.
In my first interview after signing my book deal in 2016, I spoke on the phone for a full hour with Carl Erskine, and it couldn't have been more fun or gotten me more jazzed about this project that I had taken on. Just shy of his 90th birthday at the time, Erskine was alive with detailed memories about himself (dating back to childhood) and his Dodger family, offering insights not only into his teammates but also the evolution of pitching itself. On the mound, Erskine provided some showstopping moments, from two no-hitters to the 11-inning World Series victory in 1952 in which he not only faced 41 batters but retired the final 19 in a row. It's a huge treat for me to fill in the blanks between Erskine's career highlights.
All that being said, my favorite chapter in the entire book might be the one I crafted on Don Newcombe. Readers of my previous book, 100 Things Dodgers Fans Should Know and Do Before They Die, might recall the chapter within that began with the words, "I want to write a book about Don Newcombe." While my latest work doesn't fulfill that, it's the next step — nearly 20 pages unpacking the riveting story behind the man who reigns so elegantly as the Dodgers' elder statesman, gracing Los Angeles with his presence before so many home games in recent years. Newcombe's story is truly cinematic, and if I live in fear that someone will swoop in and give him the full book or movie treatment that I haven't been able to, at least that will mean Newk got his due. Until then, I offer you this.
The fifth and final chapter in Part One goes to Johnny Podres, again illustrating how much more than he was than a single moment on top of the world in 1955, while also explaining how improbable was his ascent to that peak. Like the others in Part One (and really throughout Brothers in Arms), Podres' chapter is truly entertaining, but as the lone pitcher to win World Series games for both Brooklyn and Los Angeles, he also serves as a bridge taking the Dodger pitching tradition out west, as we'll see in Part Two.
Previously: