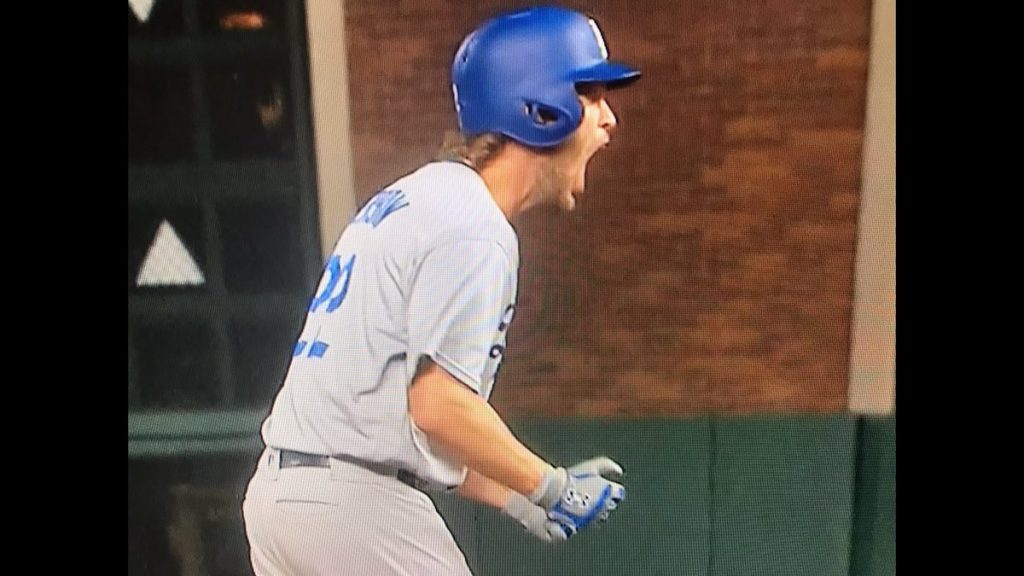 Addressing the strong possibility that Clayton Kershaw will opt out of his contract with the Dodgers after the 2018 season, Dodger owner and chairman Mark Walter told Jon Heyman of FanRag (I still can't believe that's the name) Sports that the future Hall of Famer "should be a Dodger for life."
Walter's waxings are warmly welcome but shouldn't be shocking. Short of seeing the front office and the pitcher side-by-side at a press conference, nearly every sign you might observe points to the Dodgers and Kershaw forming a more perfect union.
First and foremost, the Dodgers' reluctance to make a headstrong dive into this winter's free-agent market, in order to reset themselves under the luxury tax threshold and reduce future penalties, is unmistakably designed to free them to spend freely in 2018-19. "If the Dodgers hit their payroll target, they will save about $100 million this season in payroll and taxes," wrote Bill Shaikin of the Times, after Yu Darvish left town to sign with the Cubs. "They could use some of that savings to retain Kershaw."
Secondly, as much as the Dodgers have an aversion to long-term contracts for pitchers in their 30s, it is no no-fly zone. Many people remember Zack Greinke leaving the Dodgers for Arizona in December 2015, but almost as many forget that if not for a sudden surge of adrenaline from the Diamondbacks the morning of the deal — as Ken Rosenthal laid out in this detailed column — Greinke was likely going to remain in Los Angeles on a nine-figure contract that would have taken the righty to at least age 36.
Leaving aside the emotionally dusky possibility that an injury forestalls Kershaw opting out at all, the question surrounding his Dodger future becomes this: Is there another Arizona out there to swoop in and snatch the legendary lefty from Los Angeles.
Naturally, the likely candidates reside in the Lone Star state, where Kershaw was raised and where he returns every offseason with Ellen, Cali and Charley. The Texas Rangers play spitting distance from Kershaw's home, though in a offense-happy ballpark that wouldn't be particularly hospitable to a thirtysomething pitcher looking to round out his legacy. The Houston Astros are about 250 miles away, but in a setting much kindlier to pitchers — and of course, with a recent World Series pedigree.
If Kershaw is flat-out determined to live 12 months a year in Texas, it's doubtful anything the Dodgers can offer will change that. It's not like the guy is already struggling to come up with money for first-class travel. But Kershaw sounds sincere about his willingness to stay in Los Angeles.
"I love it here. It's great," Kershaw said following Walter's comments, according to Heyman. "I've had an amazing run here. And I don't take that for granted. Not many guys can say they get to go to the playoffs (almost) every year, or even that they have a chance to go to the playoffs every year."
Again, Houston would be the prime alternative option to Los Angeles. But if Kershaw is giving each locale equal consideration, there isn't any reason to think at this point that the Astros — or any of the 28 other MLB teams — would outbid the Dodgers. Houston's front office won't have more money to spend than the Guggenheim gang in Los Angeles, nor will Houston have fewer concerns about what it means to go overboard on Kershaw who, for all his otherwordly talent, is a pitcher with an injury history. (Keep in mind that Houston will already be paying a 36-year-old Justin Verlander $28 million in 2019.)
In Houston, Kershaw is an ace. In Los Angeles, Kershaw is an icon, unmatched in franchise history in the past 30 years (dating back to Fernando Valenzuela and Orel Hershiser) if not the past 50 (Sandy Koufax and Don Drysdale). He is a such a singular presence that the risk of him earning somewhere between $30 and $40 million in a season while being ineffective or injured is far more palatable than the risk of seeing him thrive elsewhere. This is not Albert Pujols. This is Clayton Kershaw.
Furthermore, even if winning a World Series is Kershaw's no-doubt paramount dream — one that he would happily fulfill playing anywhere from Houston to Hooterville, if that's what it took — doing so for the team that drafted him in 2006, that has consistently given him postseason opportunities throughout his career and that has the young talent and payroll to continue down that path will be more special and worth the gamble.
(One other random thought, just so I leave everything on the table: This is entirely speculation on my part, but I tend to believe that an athlete of Kershaw's nature would prefer to play in the National League, where he can bat, though maybe his attitude on that will change in his 30s.)
Neither the Dodgers nor Kershaw seem inclined to rush into a deal before Opening Day, each party waiting to see how Kershaw's back endures its 11th major-league season, and as long as there is a red exit sign looming across the theater, doubt will remain about Kershaw's fate in Los Angeles. All I can say is to Dodger fans is this: Looking at all the flags, I like where the wind is blowing.