Joc Pederson is dead center in the unfriend zone for many Dodger fans, and while it's not at all hard to see how he got there, it still raises some points for conversation.
For one thing, in the same month that apparently had people (admittedly not a majority) calling for Pedro Baez to replace Kenley Jansen as Dodger closer, we now have Yasiel Puig enduring by far the worst start of his career, with a .544 OPS in 83 plate appearances — and hardly anyone batting an eye. The old punching bags just don't take the blows they used to, at least not right now.
That said, patience with Puig is appropriate, considering the evidence of him being a streaky hitter and what we know he is capable of. A similar benefit of the doubt eludes the younger Pederson, though what I wrote about him in March remains true.
In particular, Pederson is a buy-low candidate. His contact rate has improved each of the past three years. His on-base percentage was a career-worst .331 in 2017, but his batting average on balls in play (.241) was the unluckiest of his three full seasons in the majors. In his poorest year, Pederson's OBP was only .023 behind Chris Taylor in Taylor's best year.

Pederson's 2017 regular season cratered when he went 4 for 56 with no homers from August to September, with a demotion to the minors in the middle of that. Entering August, he had an .825 OPS on the season. His three homers in the World Series reminded us that Pederson's pre-August section better reflects his true ability as a hitter.
So 2018 begins, and Pederson, in 46 plate appearances, has been mediocre at best: .304 on-base percentage, .325 slugging percentage, 84 wRC+. With Matt Kemp off to a much glitterier start (.362 OBP, .547 slugging, 153 wRC+), every plate appearance taken by Pederson seems to become a point of anguish.
That's not surprising. Kemp has been a fan favorite, since before the Dodgers even drafted Pederson in 2010, and who wouldn't love to see him forge a comeback here?
What I struggle with is the rush to declare Pederson hopeless. It's part of a larger pattern where some Dodger fans are relentlessly eager to call it quits on a player. Yasmani Grandal, who has been the Dodgers most valuable player this month after practically being persona non grata last October, is the most recent example of a phenomenon that has also included Puig and perhaps most famously in recent years, Juan Uribe, the mascot of "never say never." No matter how many redemption stories you find, it seems like there's a fundamental lack of belief that a slumping player will rebound, even in his mid-20s.
Let me emphasize here that I don't have any idea whether Pederson will ultimately become the kind of player he appeared capable of being from 2015-16, when he hit 51 homers with an .801 OPS (119 OPS+) before turning 25. I freely acknowledge the possibility that he peaked early, that MLB pitchers have truly figured him out, and there's nowhere for him to go but down.
But Pederson's career OPS just last July — not even a year ago — was above .800. Declaring his career terminal is a rush to judgment.
I'm particularly skeptical of those who insist that Pederson gives you nothing but strikeouts. Over the years, Pederson has steadily reduced his strikeout rate (while swinging at fewer pitches outside the strike zone) to the point where in 2018, he has the second-lowest strikeout rate of any Dodger regular.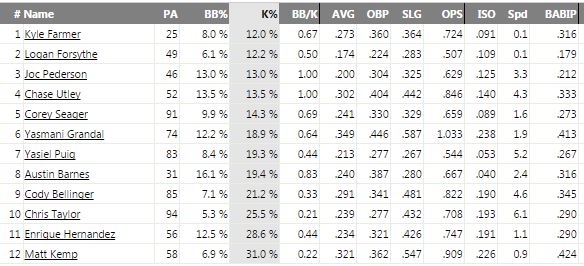 This invites another theory about Pederson, which is that all his focus on reducing strikeouts has actually taken away from his strengths as a hitter — and if the Dodgers just let Joc be Joc, salvation lies within. Certainly, it's notable that Pederson's strikeouts are trending downward while they are skyrocketing in the power-happy MLB universe.
Admittedly, Logan Forsythe, the only regular with a lower strikeout rate than Pederson, isn't the offensive company you want to be keeping right now, but the final column on that Fangraphs chart above is also worth noting: batting average on balls in play. Pederson and Forsythe are the unluckiest Dodgers, while Kemp and Grandal are living largest. Expect those numbers to normalize as the season goes on. Kemp's body looks a million times better in 2018 than it did with the Braves last year, but if his OPS slips from the .900s to the .700s via regression to the BABIP mean, his defensive shortcomings won't seem quite so tolerable.
Maybe Pederson is fated to thrive or dive elsewhere. He's only a part-time starter now, and that's without Andrew Toles or Alex Verdugo making their first big-league appearances of 2018. But if you're wondering why the Dodgers continue to give Pederson at-bats, just consider that there is still reason to believe. Patience is an undervalued commodity.