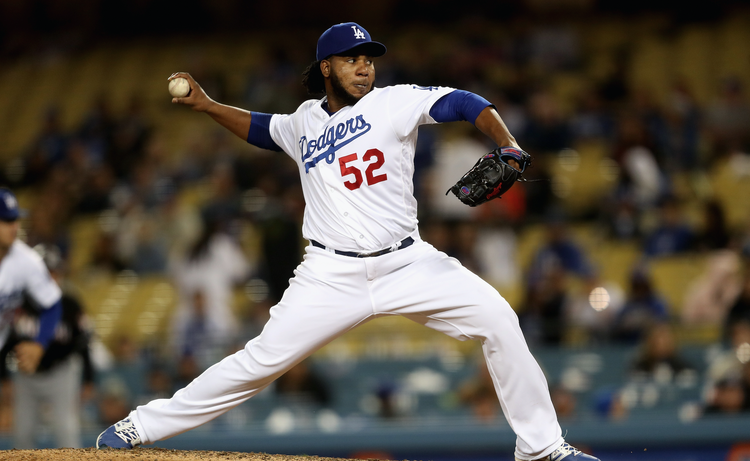 Someday soon, Pedro Baez will give up a run — a meaningless run or a critical run — and Twitter will erupt anew with demands for his release and querulous queries of how he could possibly still be on the Dodgers?
The fact that Baez has been on a roll for the past four weeks, allowing five baserunners in 10 2/3 innings while striking out 12 and posting a 0.00 ERA (and stranding six of seven inherited runners) will be obliterated from memory.
This is hardly Baez's first hot streak. Two years ago, for example, I wrote about Baez's "practically perfect July" — 39 batters, 36 outs, 0.00 ERA. That October, Baez went on to pitch scoreless ball in the first three National League Division Series games against the Nationals. But then Baez relieved Clayton Kershaw in a taut, desperate Game 4, hit Jayson Werth with the only pitch he threw, and no one cared about anything that came before.
Let me be clear: I'm not here, in the slightest, to argue that Baez hasn't had disastrous days. He may never be the one you want with the game on the line, much less the season. You may rightly despair at the sight of him on a playoff roster, considering that he has allowed 11 runs (seven earned) and four inherited runs to score in 9 2/3 career postseason innings.
Baez will never be the best reliever on a pitching staff. This much is true.
And yet throughout his career, Baez has regularly had hot streaks like the one this past month. Tonight was the 30-year-old's 257th career regular season game. In 180 of those (70 percent), he has allowed neither a run nor an inherited run, let alone the games in which he allowed runs that didn't matter. I would imagine that some fans would expect his success rate to have been closer to 7 percent.
Baez is not great. He might only barely be good. Maybe he's thoroughly mediocre. But in a long season, he has value that is not easily replaced — otherwise the Dodgers would have done so by now. Since Baez's rookie season in 2014, 68 other pitchers have taken the mound in relief for the Dodgers, and the franchise hasn't been shy about saying goodbye to most of them.
It's time for Los Angeles to accept Pedro Baez for what he is. A guy in the middle, maddeningly inconsistent and sometimes unbearably slow, but a guy who much more often than not does the job, and certainly not a guy who should make your stomach turn every time you see him. Is that asking so much?