Click the chart below to enlarge.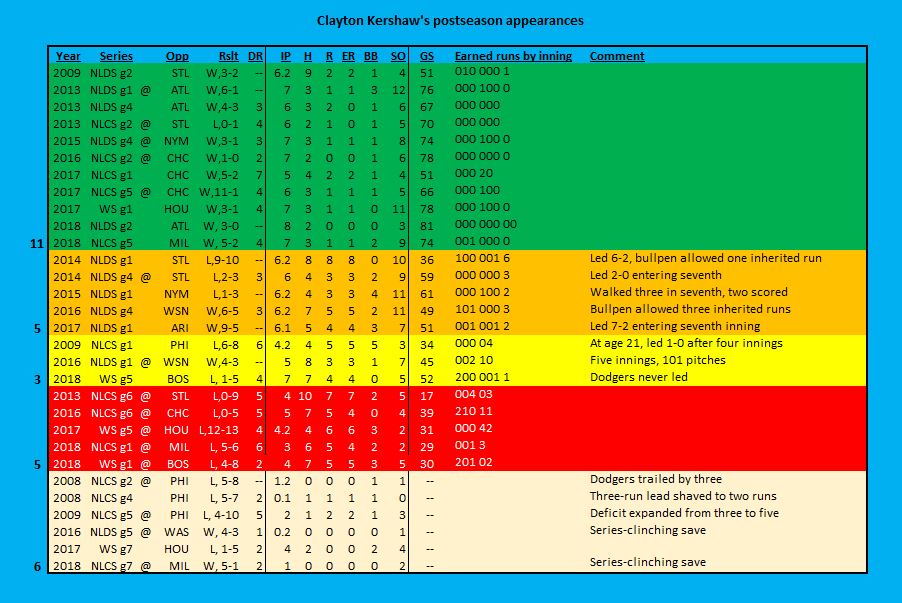 Please welcome back the Clayton Kershaw Postseason Chart, which I introduced a year ago to illustrate how Kershaw has been both great and terrible in the postseason.
Not only terrible. Great and terrible.
There's no getting around the fact that Kershaw has been an October disappointment, because he has had more pratfalls then one expects from a future Hall of Famer. That does not mean he can't pitch in the postseason. It means he has been inconsistent. Those are two different things.
Kershaw has made 24 career playoff starts. Here's how they break down:
In green, the 11 games in which Kershaw has indisputably pitched at the level of an ace. (In those 11 starts: 72 2/3 innings, 73 strikeouts, 1.11 ERA.)
In orange, five additional games in which Kershaw has allowed at most two runs through his first six innings, more than giving the Dodgers a chance to win, but for any kind of support from the bullpen, offense or the fates.
In yellow, three games that are a mixed bag, somewhere in between good and terrible. In last year's World Series finale, for example, Kershaw had a quality start through six innings, but I didn't feel comfortable putting it in the orange category.
In red, five games that are the unmitigated disasters on the Kershaw postseason ledger. Game 5 of the 2017 World Series is by far the toughest one for me, because he was so good for the first three innings, before he let things get away. (Something else to note: All five of the red games took place away from Dodger Stadium.)
Just added: In light gold (?), Kershaw's six relief appearances, including his two series-clinching saves. In the past three postseasons, Kershaw has thrown 5 2/3 innings of scoreless relief.
It's up to you how to interpret these results. If you think any start that isn't in the green is horrible, so be it. If you think the orange and yellow categories aren't all bad, that's fine as well. Maybe you even think I put certain games in the wrong category. Where I drew the lines is subjective.
My only purpose with this chart is to make it easy for people to see that Kershaw isn't an automatic zero in the playoffs — that at least 11 different times, he has been every bit the Kershaw you expect him to be. That's not something to dismiss.
Given his vulnerability to home runs this season, I don't expect the 2019 postseason to be any different for Kershaw' than his seven previous trips to the playoffs. He will likely falter at some point, and when he does, most of the baseball-watching world will forget he ever succeeded — even if he succeeded only a few days earlier.
I understand that unless he leads the Dodgers to a World Series title, many will find a hole in his career.
All I'm saying is, people should acknowledge the good as well as the bad.