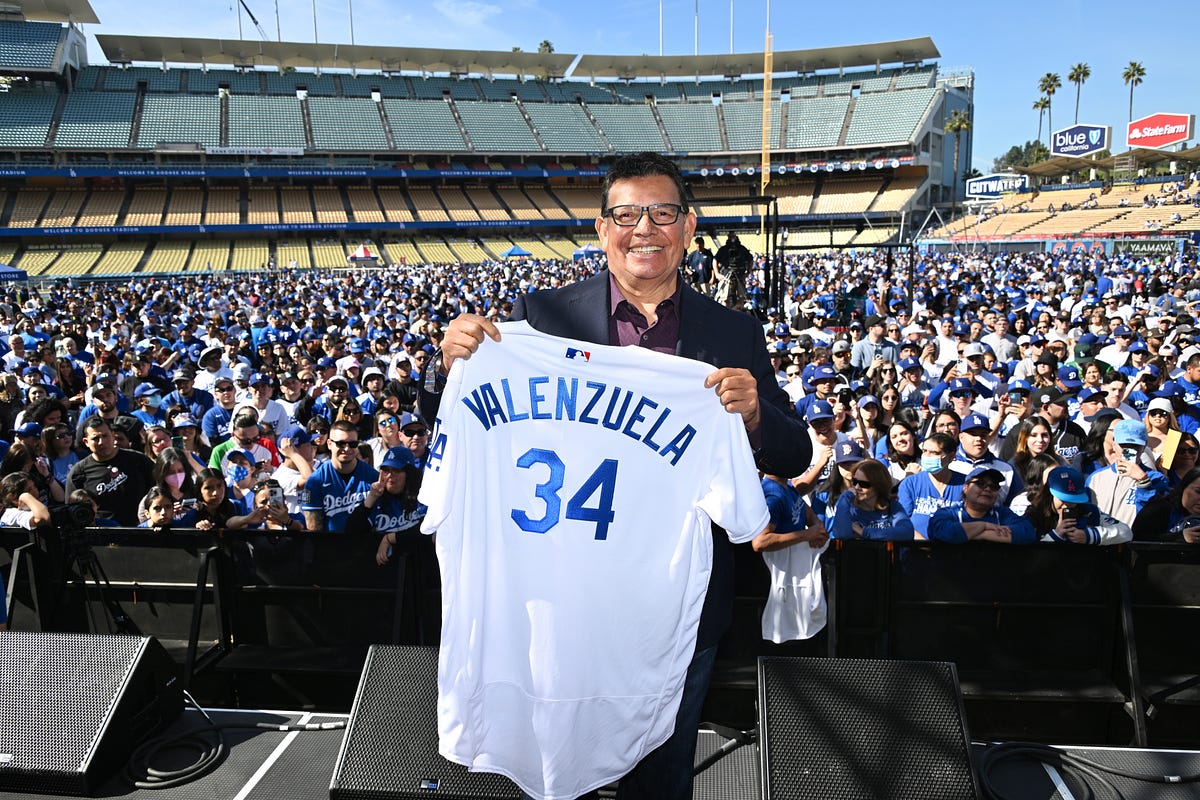 On August 11, the Dodgers will officially retire the No. 34 of Fernando Valenzuela at Dodger Stadium, fulfilling the dreams of so many fans. In truth, no other Dodger has worn the number since Valenzuela first put it on in 1980, but this moment sanctifies.
I'd like to take you through the most important moments of Valenzuela's Dodger career — 15 of them — saving the best for last. Here we go …
"[Hamilton] was so mad. He was pissed. And I went to see him and I said, 'You know what, that's the way we feel when we lose games too — so don't worry.'"
— Fernando Valenzuela
15. Fernando at first base (June 3, 1989): From his very first season as a starting pitcher in 1981, Valenzuela fielded his position with an athleticism and dexterity that, to be frank, was unexpected given his body type. The culmination came when the Dodgers ran out of position players in the bottom of the 21st inning in Houston, and Valenzuela had to play first base while infielder Jeff Hamilton was forced to pitch. Valenzuela recorded two putouts there, before a line drive by Rafael Ramirez zinged off the top of the leaping Valenzuela's glove for the game-winning hit.
"Really for me as a pitcher, a lot of good things happened when I was on the mound. But at the plate, things didn't happen like that every day. So hitting a home run, that was more exciting for me."
— Fernando Valenzuela
14. Babe Valenzuela (August 25, 1982): Valenzuela drew almost as much attention at the plate as he did on the field. Over his Dodger career, he batted .202 with eight home runs, the first coming on a summer night in St. Louis, when he connected off the Cardinals' Steve Mura in an 11-3 Dodger victory. Of course, he also pitched a complete game, allowing one earned run.
13. The ill-timed injury (July 30, 1988): For the six seasons from 1982-87, Valenzuela threw 1,595 2/3 innings in 209 games, averaging 7 2/3 innings per start. He paid the price in 1988. A day after taking his 255th straight turn in the Dodger starting rotation, he went on the disabled (now injured) list with a strained left anterior capsule. He came back in the final week of the regular season to make two appearances, but by his own admission, he wasn't ready to face playoff opponents. As the Dodgers marched to the 1988 World Series title, Valenzuela could only watch.
12. Eight Isn't Enough (October 14, 1985): In Game 1 of the National League Championship Series, Valenzuela pitched 6 1/3 innings, keying the Dodgers' 4-1 victory over the St. Louis Cardinals. His performance in Game 5 was pure roller-coaster: 129 pitches over eight innings with eight walks (still an NLCS record), but he left the game with the score tied 2-2. After scoring those two runs in the first inning, the Cardinals went 0 for 11 with runners in scoring position. Then in the bottom of the ninth, Tom Niedenfuer threw the illest-fated 1-2 pitch to Ozzie Smith.
11. KKKKKKKKKKKKKKK (May 23, 1984): Valenzuela's career high of 15 strikeouts came in a 1-0 victory at Philadelphia, as he outdueled future Hall of Fame lefty Steve Carlton.
10. Twenty (September 22, 1986): The only 20-win season of his career arrived via vintage Valenzuela: a two-hitter in Houston, the site of his major-league debut. Although he allowed two runs (one earned) in the seventh inning, Valenzuela retired the final nine batters he faced. And of course, he hit an RBI single in the fourth inning of the Dodgers' 9-2 victory. For the year, Valenzuela went 21-11 with a 3.14 ERA a career-high 20 complete games out of 34 starts, finishing second in the NL Cy Young Award voting.
9. Loss leader (April 28, 1985): After four starts to open the '85 season, Valenzuela had a 0.00 ERA — and two losses, thanks to unearned runs in the first and fourth games. On his final start of April, he would extend his streak without allowing an earned run all the way to 41 innings, before Tony Gwynn smacked a ninth-inning home run to give the San Diego Padres a 1-0 victory. Unbelievably, Valenzuela finished April with a 0.21 ERA and a 2-3 record.
"If I say I wasn't nervous, I'm not from this planet. Everybody gets nervous. But not, 'I don't want to do it.' I wasn't nervous because I didn't know if I was going to fail. I was just excited. I wanted to just get in the game and just see what would happen, because I didn't expect anything. I wanted to do my best, and whatever happened was fine."
— Fernando Valenzuela
8. The debut (September 15, 1980): At 19 years and 319 days, Valenzuela toed the mound for the first time in a real-live major-league baseball game. With Bruce Benedict at the plate, Valenzuela entered in the sixth inning. For that frame, he was perfect. In the seventh inning, the Dodgers sandwiched the only hit Valenzuela allowed with two errors, leading to two unearned runs, with Atlanta taking a 7-0 lead. So, the moment itself wasn't one to write to Mexico about. But it was the start of something big. Something very, very big.
7. Gooden grief (September 6, 1985): If it wasn't quite the most memorable game of Valenzuela's storied career, it was definitely the most memorable duel. Four years after taking becoming a pitching sensation at age 20, Valenzuela faced the newest kid on the block, 20-year-old Dwight Gooden, who entered the game with a 1.81 ERA. It was the greatest showdown between two pitchers that I have ever seen live. Gooden went nine shutout innings. Valenzuela went 11. The Dodgers would lose in the 13th inning, but not before an announced crowd of 51,868 gave Valenzuela two standing ovations.
6. Game 162 of 163 (October 5, 1980): Out of practically nowhere and still only 19 years old, Valenzuela made his MLB debut on September 15, 1980. Nearly three weeks later, he still hadn't allowed an earned run when the Dodgers faced the Houston Astros in a season-ending series that required Los Angeles to win four games in a row to make the playoffs. On the first of those games (October 3), Dodger manager Tommy Lasorda assigned nothing less than the ninth and 10th innings to Valenzuela, and the southpaw held off Houston long enough for Joe Ferguson to hit a walkoff homer. Two days later, Valenzuela held the Astros at bay again for two innings, biding time until Ron Cey's game-winning home run in the bottom of the eighth. The legend is that Lasorda should have started Valenzuela in the final game — Lasorda himself came to believe as much, after the Astros battered Dave Goltz — but even in those rugged times, there was really no precedent for starting a pitcher a day after he threw two innings in relief.
"The Mexican people in Los Angeles were clamoring for an idol. When he started pitching in 1981, not only Mexicans, not only Latinos, but the Anglos also took notice of this kid, a little bit chubby, long hair, who couldn't speak any English. The American people fell in love with him. Everybody."
— Jamie Jarrín
5. The Word (April 26, 1981): In his rookie year, Valenzuela's fifth start of April was his fifth straight complete game. He shut out the Giants, 5-0, lowering his ERA to 0.20. (He also went 3 for 4 at the plate, raising his batting average to .438.) The next morning, there was a 13-letter headline above Scott Ostler's column in the Los Angeles Times: 'FERNANDOMANIA.'
4. For the pennant (October 19, 1981): The deciding game of the 1981 NLCS is rightfully remembered for Rick Monday's go-ahead, ninth-inning home run in Montreal. But one man made that moment possible. Valenzuela held the Expos to one run over his first eight innings. It's true that Valenzuela didn't finish the game. With two out in the bottom of the ninth, he went to full counts on Gary Carter and Larry Parrish, walking them both, and Lasorda turned to Bob Welch, who threw one pitch for the save. Say what you will about 1981 and the rest of his career, but this was the most important victory of Valenzuela's life, except for … well, we'll get to that.
"When I was walking to the bullpen, walking right next to the video room, they told me, 'Dave Stewart just got a no-hitter.' I said, 'It's good for him. You guys were watching?' They said, 'Yeah.' 'So you guys were watching one on TV, now you're going to watch one live.'"
— Fernando Valenzuela
3. Yes to the no-no (June 29, 1990): Nearly a decade after his debut, Valenzuela clearly wasn't the same pitcher. Inconsistent, he entered his final start of June with a 4.09 ERA, having allowed eight runs in 5 1/3 innings in his previous start. Earlier in the day, former teammate Stewart threw his no-hitter. Sure enough, before a delirious Dodger Stadium crowd, the now bespectacled Valenzuela induced a game-ending double-play grounder from a hitter named Pedro Guerrero, and a broadcaster named Vin Scully uttered something about a hat.
"I was throwing on the side a little bullpen, a little warmup, working out. And when I finished, they told me, 'We don't have a pitcher for tomorrow.' I said, 'Yes.' I didn't wait — I didn't wait to answer that question."
— Fernando Valenzuela
2. It begins (April 9, 1981): It's more than understandable if you were expecting Valenzuela's sensational debut to reign supreme. After all, it was storybook: With the Dodgers' top four starting pitchers unable to take the mound Opening Day, the unassuming Valenzuela stepped in and stepped up. A mere two hours and 17 minutes later, he was a sensation. scattering five hits and two walks in a 2-0 shutout of Houston. A stunned Dodger Stadium roared, and soon the rest of the baseball world would follow suit.
"This was not the best Fernando game. It was his finest."
— Vin Scully
1. Mt. Everest (October 23, 1981): The Dodgers lost the first two games of the 1981 World Series. Six batters into Game 3, with Valenzuela on the mound, the Dodger bullpen got busy. By the time the top of the third inning was over, Valenzuela allowed four runs and had already thrown 72 pitches.
"The whole year was fantastic, and the beginning was unbelievable. But then everybody believes, as I do, the best game he ever pitched was in the World Series against the Yankees. He didn't have his best stuff, and he was in trouble during the whole game, and Lasorda went to the mound several times, but Fernando, he wanted to finish. That was one of his trademarks—he wanted always to finish what he started.
— Jaime Jarrín
Somehow, Valenzuela endured. Though he ended up facing 40 batters, though he ended up allowing 16 baserunners, though he ended up throwing 147 pitches, Valenzuela limited the Yankees to those four runs. The Dodgers scored five, and they would never lose again in 1981. At age 20, with his heart, mind, body and soul, Valenzuela lifted the Dodgers to the promised land of a World Series title.