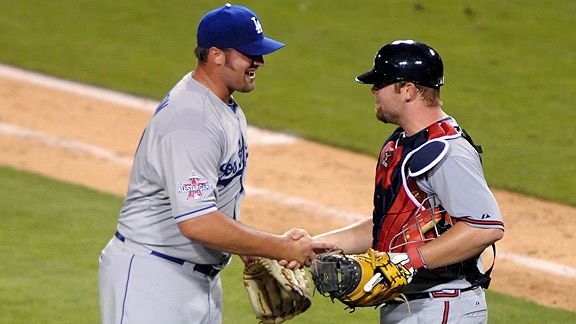 Gary A. Vasquez/US PresswireJonathan Broxton and Brian McCann shake on it.
Coast to coast, Jonathan Broxton naysayers revved their engines as he came out to save for the National League against the American League in tonight's All-Star game.
And coast to coast Broxton silenced them, at least until the fall.
Whether Broxton truly stripped away any of the cynics' ammunition in preserving the NL's 3-1 victory – the NL's first victory since 1996 – is doubtful. If the Dodgers are fortunate enough to play in October, the doubters will surely return, because past success has never slowed the cynics before.
But considering the alternative, Team Broxton will take it.
"It felt awesome," a smiling Broxton told Fox's Eric Karros after the game.
Employed as closer by the manager who profited from Broxton's twin NLCS disappointments, Phillies skipper Charlie Manuel, Broxton raised the stakes with his first pitch, lined to right field by David Ortiz. That brought up former Dodger Adrian Beltre, in his first All-Star game. Broxton blew Beltre away on three fastballs between 97 and 99 miles per hour.
Broxton then started John Buck off with three balls that missed, followed by two fastballs for strikes. Buck hit the next pitch as a blooper to right, and it looked like the NL would be victimized by their maligned outfield defense. But Marlon Byrd fielded the ball on a bounce and quickly and alertly fired to Rafael Furcal covering second base for a 9-6 forceout – a huge play that wiped out what would have been an unlucky hit.
Ian Kinsler then hit a high fly to center field, which Chris Young of Arizona gloved for the final out. And Broxton could wear the All-Star S across his big chest.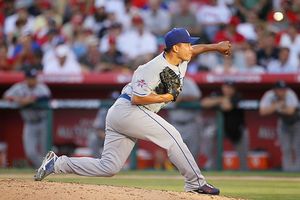 Jeff Gross/Getty Images
Hong-Chih Kuo
Short of a blown save for Broxton, a Kuworst-case scenario seemed to be ripening for Dodger fans midgame, when Hong-Chih Kuo walked the leadoff American League batter in the fifth inning, made a throwing error that put runners at first and third and then surrendered a deep sacrifice fly that scored the game's first run.
But Brian McCann provided the relief (if sadly reminding us that we used to think Russell Martin was a better-hitting catcher not too long ago) with a bases-clearing double in the seventh inning, taking Kuo off the hook.
McCann also relieved himself, if you will, from an earlier disappointment. In the top of the fifth, Dodger outfielder Andre Ethier (1 for 2) had a chance to be a hero when he lined a single to right field with David Wright on second base. But the ball was hit too hard for Wright to be sent home. Corey Hart struck out, and McCann then flied out to strand the two runners.
Kuo faced four batters and retired two, throwing 18 pitches. Furcal walked in his only plate appearance, before getting in position to complete the key play of the game in the ninth.