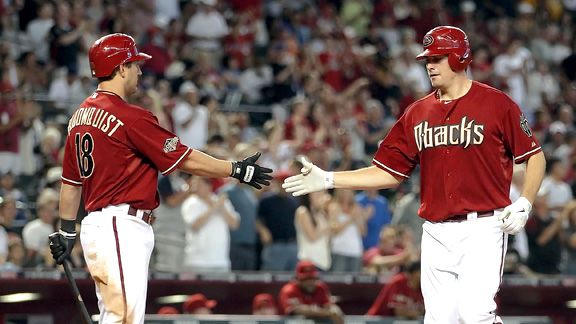 Christian Petersen/Getty ImagesOne-man band gets a hand.
In a down season, at least the Dodgers had the best-hitting pitchers in the National League. They couldn't take that away from them, could they?
Meet Daniel Hudson of Arizona.  Nine innings pitched, one run allowed, three runs driven in. While throwing his complete game, Hudson went 2 for 3 with a home run and a two-run, two-out, bases-loaded single to manhandle the Dodgers today, 4-1.
Dan Haren might be a distant memory for the Diamondbacks, but they've found his replacement and don't even have to change the monogrammed spikes.
The hits gave Hudson a .375 on-base percentage and .513 slugging percentage this season, not to mention 12 RBI, in 47 plate appearances. That puts the 24-year-old righthander, who also lowered his ERA to 3.56, in prime contention for the pitchers' Silver Slugger award that, along with Matt Kemp's, figured to be one of the few consolation prizes arriving at Chavez Ravine this year.
Did I mention consolation prize? San Francisco defeated San Diego in 11 innings today, dropping the Dodgers to 12 1/2 games out of first place in the NL West. The Dodgers' five-game winning streak ended just Saturday night, and yet Los Angeles now faces its biggest deficit of the season.
The Dodgers avoided a shutout only after Diamondbacks shortstop Stephen Drew failed to catch James Loney's hit-and-run line drive in the seventh inning. Instead of a double play, it put Loney on first and Matt Kemp (1 for 4) at third. Kemp then scored on a wild pitch.
That cut the Dodgers' deficit at the time to 2-1, with Arizona scoring its runs on solo homers by Ryan Roberts in the second inning and Hudson in the sixth off (this won't surprise you) Ted Lilly, who otherwise pitched well enough, striking out nine and walking none unintentionally.  In fact, Lilly was in better position than Hiroki Kuroda on Saturday to find a way to win when the bottom of the seventh came, but after a single and ultimately two intentional walks, Blake Hawskworth allowed Hudson's big hit.
* * *
This is truly neither here nor there, but Juan Uribe's batting average stubbornly refuses to drop below .200. He has ended every game since June 24 with a batting average between .210 and today's .204.