Some Tuesday postgame data, courtesy of ESPN Stats and Information:
How Dodgers starter Clayton Kershaw dominated the Pirates despite not picking up a win:
– Sixty-five of Kershaw's 88 pitches (73.9 percent) went for strikes, the highest percentage of his career.
– Kershaw went to a three-ball count to the first hitter of the game, the only one he went to all game. The one three-ball count matches his career low in a start.
– Pirates hitters were 0 for 7 with five strikeouts in at-bats ending with Kershaw's slider.
– With two strikes, Pirates hitters were 0 for 11 with seven strikeouts.

Kershaw held the Pirates hitless in six at-bats with runners in scoring position on Tuesday, continuing his dominance of hitters when getting into a jam.

Lowest BA Allowed With RISP, Starting Pitchers, Since Start of 2011 Season

Ian Kennedy .142
Jeremy Hellickson .161
Ricky Romero .173
Jhoulys Chacin .173
Clayton Kershaw .185 (0-6 on Tuesday vs Pirates)

* * *

Matt Kemp went 0-4 on Tuesday, but drove in a run for the ninth straight game. The nine straight games with a RBI ties a Dodgers' record.

Most Consecutive Games with RBI, Dodgers History
Matt Kemp 9 (2011-12)
Roy Campanella 9 (1955)
Augie Galan 9 (1944)

* * *
Andre Ethier, on his 30th birthday, hit a game-winning home run in the eighth inning in the Dodgers' win over the Pirates. The last player to celebrate his 30th birthday by hitting a game-winning homer in the eighth inning or later was Jerry Mumphrey for the Yankees against Milwaukee on September 9, 1982. Mumphrey hit a 10th inning homer in that game. (Elias Sports Bureau)
* * *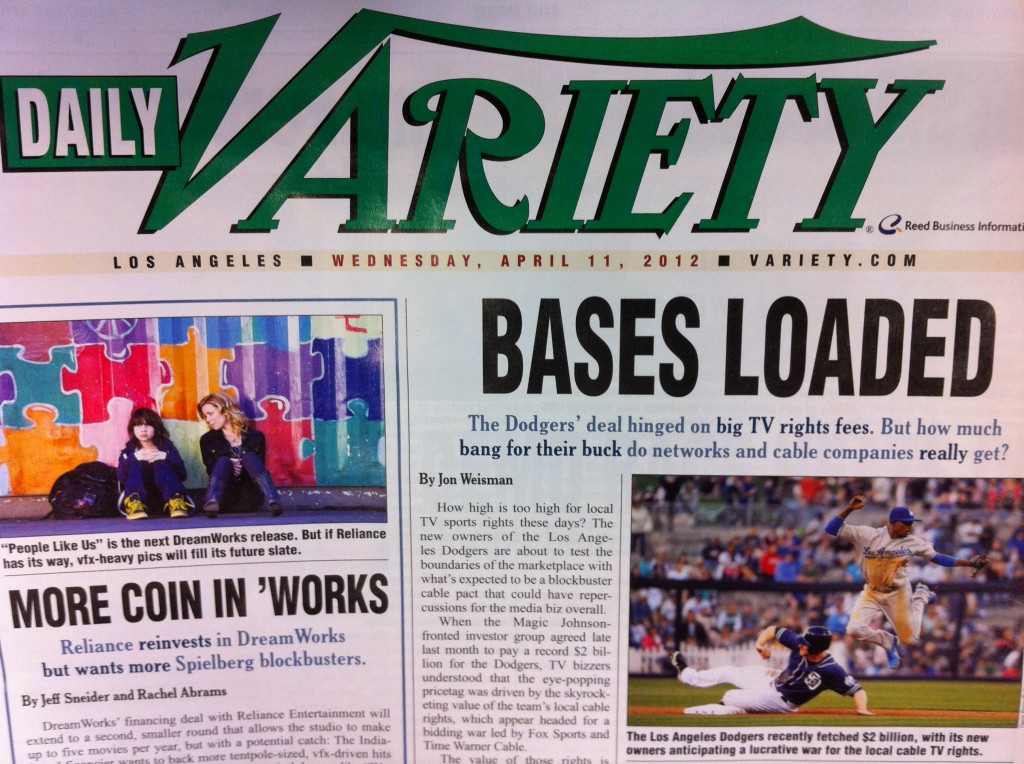 In a story for Variety, I explore how much TV networks can justify bidding billions of dollars for the rights to broadcast baseball games. Nice to see Dee Gordon flying across the top of the paper …
In five games, Gordon has four steals in five tries, and replays showed he was safe on the time he was called out.
MIke Petriello of Mike Scioscia's Tragic Illness conveniently tackles a subject I was mulling myself: how Chad Billingsley does in his next start following a great outing. It might also be worth looking at how Billingsley does after a high pitch count in his most recent appearance.
Today in Jon SooHoo: A photo gallery from the home opener.
Sons of Steve Garvey has its own nice photo recap of Tuesday.
His Dodger shortstop predecessor, Rafael Furcal, is 10 for 23 with three doubles, two walks and two steals to start 2012: 1.045 OPS.
Here's an Associated Press story on security at Dodger Stadium for the first home opener since Bryan Stow was attacked.
Joe Torre conceded to Tony Jackson of ESPNLosAngeles.com that at times, Matt Kemp was a difficult player for him to manage.
Jonah Keri of Grantland and Dave Cameron of Fangraphs discuss the need and desire to kill the save statistic and replace it with something more useful.
Cardboard Gods, inspired by the hyphen.
Another gem by Josh Wilker at
A baseball card featuring Reggie Smith and Ryne Sandberg is the subject of a piece by Bruce Markusen for the Hardball Times.
Dixie Walker will be played by Ryan Merriman of ABC Family's Pretty Little Liars in the upcoming Jackie Robinson biopic, 42, reports Justin Kroll of Variety.
Eleven contract extensions have been signed by pre-arbitration-eligible players since the end of last season; Ben Nicholson-Smith of MLB Trade Rumors looks at the trend.
Carlos Santana became one of those players, signing a five-year, $21 million extension. Mike Axisa of Fangraphs examines the deal.
At the bottom of this Fangraphs post, you are asked to rate Dodger radio announcers Charley Steiner and Rick Monday.