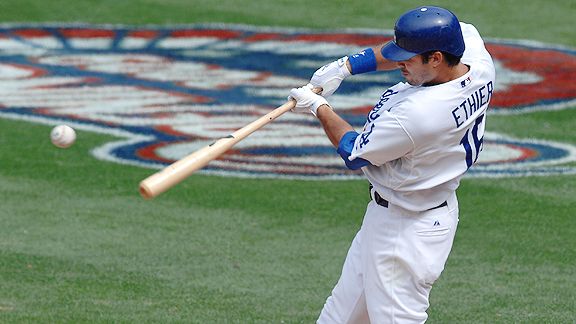 John Cordes/Icon SMI
Andre Ethier blasted two homers and drove in four runs in the Dodgers' home opener a year ago today.
They were overshadowed by Orlando Hudson producing the first Dodger cycle in 39 years, but there were plenty of heroes that made last year's Dodger opener a laugher in the best kind of way for the fans. Every Dodger starter had at least one hit, Andre Ethier homered twice, Chad Billingsley scattered four singles and a double over seven innings while striking out 11 – heck, even Will Ohman pitched a shutout inning. All against the Giants. The good times rolled on through April's record streak of consecutive home victories to start a season.
Things are a bit cloudier a year later, with the Dodgers 3 1/2 games behind the Giants in the National League West before the home crowd has even seen a regular-season pitch. But Monday's gray skies have cleared up, just as Albert Peterson predicted. Let's go have some fun!
* * *
Joe Torre-managed teams have won 12 consecutive home openers, notes Eric Stephen of True Blue L.A. Stephen has more Dodger home opener details here.
In the comments of that thread, BHSportsGuy lists the 15 Dodger pitchers credited with a win since Clayton Kershaw's last on July 18.
Via Twitter, Stephen points to a nice feature by Tom Krasovic on Dick Enberg, reborn as a Padres play-by-play announcer. Related: Rob Neyer of ESPN.com heard Enberg say that he tried to write a screenplay about legendary spy/catcher Moe Berg.
Memories of Kevin Malone took a close look at the Dodger defense.
Padres pitcher Chris Young went on the disabled list, where he'll find Arizona catcher Miguel Montero and might soon be joined by Phillies shortstop Jimmy Rollins. Juan Castro is the Phillies' current replacement for Rollins.
Josh Wilker of Cardboard Gods gets some nice Huffington Post exposure in writing about the anniversary of Mark Fidrych's death and the connection with his childhood.
Blue Heaven passes along a March 6, 1948 letter from Branch Rickey to Walter O'Malley (written from Spring Training at Ciudad Trujillo, Dominican Republic) calling for a trade of Eddie Stanky "even if we were getting nothing for him at all," to create 

an opening in the Brooklyn infield. According to Baseball-Reference.com, Stanky was traded within 24 hours with a player to be named later to the Boston Braves for a player to be named later, Bama Rowell, Ray Sanders and $40,000. (A month later, the Dodgers completed the trade by selling Sanders back to Boston for $60,000.)
Four-hit nights for Dodger minor leaguers on Monday: Xavier Paul had three singles and a homer for Albuquerque, Dee Gordon had three doubles, a single and an error for Chattanooga and Jerry Sands had two doubles and two singles for Great Lakes. Kevin Goldstein of Baseball Prospectus writes that after an 0-for-6 start in AA, Gordon has six hits (including four doubles) in his past seven at-bats.
Isotopes reliever Brent Leach is having a Sherrill of a time in his first two games of the year.
Matt Hiserman, son of Times assistant sports editor Mike Hiserman and a college pitcher for the University of San Francisco, has come back inside of two months from a liner to the head that landed him in intensive care for four days, writes Eric Sondheimer of the Times.
The crackdown on Dodger Stadium pregame tailgating was scheduled to begin at dawn in Elysian Park, according to Zach Behrens of LAist (via L.A. Observed, which also points to a David Kipen piece talking about the origins of the Dodgers' "LA" logo.).
How much of a difference does payroll make in baseball? Tom Tango writes at TMI: "If you spend at the league average (Payroll Index = 100 percent), your chance of making the playoffs is 27 percent. If you spend at double the league average (Payroll Index = 200 percent), your chances are 77 percent. And if you spend at half the league average, your chances dwindle to almost 0."
Bob Timmermann wrote movingly about his grandmother, Ella Kimberling, for L.A. Observed's Native Intelligence.
Quick entertainment notes from my day job: 1) Definitive details on Conan O'Brien's move to TBS, 2) DirecTV will broadcast all five seasons of "The Wire" commercial-free, 3) Three major new hits ("The Good Wife," "Modern Family" and "NCIS: Los Angeles" premiered within 25 hours of each other.
Leaving you with this: Brian Akin of Dear (Tommy) John Letters is thinking of hanging up his blog if he has to hang up his spikes. While I certainly hope he signs with another team, reading his latest post will serve as a reminder that no matter what, he should keep writing.