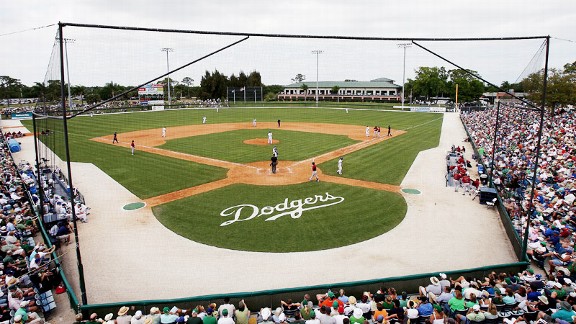 Doug Benc/Getty ImagesA view from the final Dodger Spring Training game at Holman Stadium, March 17, 2008.
Former Dodger owners Peter O'Malley and sister Terry Seidler and former pitchers Chan Ho Park and Hideo Nomo have joined forces with Minor League Baseball to operate the old Dodgertown complex now known as the Vero Beach Sports Village.
O'Malley, a candidate to buy the Dodgers themselves from Frank McCourt, will be chairman and CEO of the new enterprise, and MiLB president Pat O'Conner will be president and COO, while Craig Callan will remain in control of operations of the facility, where he has worked for 33 years.
O'Conner said the goal of the group is to use the facility "for local, domestic and international sports programs" that will attract a variety of visitors.
"This combined effort of Minor League Baseball, the O'Malley and Seidler families and members of our extended baseball family will undoubtedly have a positive impact on Vero Beach Sports Village," O'Conner said in a statement. "Peter O'Malley and his family have a long and storied history in Vero Beach and baseball in general, both domestically and internationally.
"Chan Ho Park and Hideo Nomo provide insight from a player's perspective, as well as enormous credibility in Asia and the Pacific Rim."
Nomo has been bringing Japanese youth players to the U.S. for the past couple of years for competition and cultural exchange.
"Being a part of the group that will operate a facility that provides youths with resources they can use both on and off the field is extremely rewarding," Nomo said. "Those who come to the facility can improve not only as athletes through tournaments and training, but can also develop skills to help them mature into young men and women."
Added Park: "I have many fond memories of Dodgertown from my nine seasons playing for the Dodgers. I love it there and look forward to seeing many teams and individuals enjoy all of the unique features of the complex and take full advantage of the amenities it has to offer, as I did when I trained and played there."
For O'Malley, it's a return to his roots — he was director of Dodgertown from 1962-65. Seidler worked there in the 1950s as the secretary for the Dodgertown Summer Camp for Boys.
"I embrace this wonderful opportunity to use this iconic facility that my family has cherished for decades to promote baseball," O'Malley said in a statement. "Vero Beach Sports Village should always be an asset and a jewel to the citizens of Vero Beach and Indian River County, and I look forward to adding further luster to its rich history.
Though MiLB began operating the old Dodgertown facility in 2009 and events have continued to take place there, it has been in jeopardy ever since Dodger Spring Training left for Camelback Ranch in Arizona, with lots of speculation that it could eventually be sold off and converted for non-sports use.
"We know the Dodgers have a long-term spring training commitment with the community of Glendale, Arizona, and our endeavor in Vero Beach in no way impacts that relationship," O'Malley said.
In other words, even if O'Malley ends up back with the Dodgers, don't expect Spring Training to return to Vero Beach. Still, for fans of Dodgertown, this is welcome news.