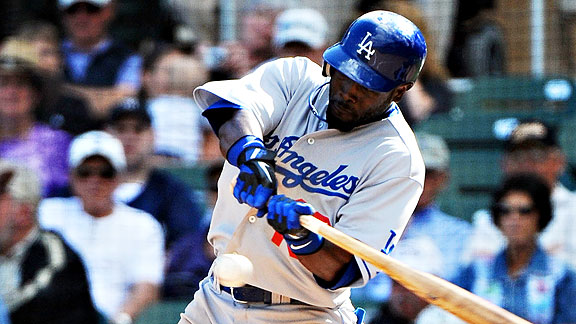 Lisa Blumenfeld/Getty Images (file)Tony Gwynn, Jr., who has five regular-season homers in his major-league career, went yard today.
Highlights:
Tony Gwynn Jr.'s leadoff homer against Takashi Saito kicked off a Dodger power parade, which included circuit clouts by Aaron Miles, Matt Kemp and Andre Ethier. Each member of the latter trio went 2 for 3.
Ethier, Ivan De Jesus Jr. (also 2 for 3), Dioner Navarro and Justin Sellers notched doubles.
Starting against the team that he faced when Elymania launched, John Ely threw three shutout innings, retiring nine of 10 batters and striking out two.
The Dodger defense impressed Milwaukee's broadcast team, said Dodger Thoughts commenter Bob Hendley.
Lowlights:
Ron Mahay allowed his second homer in three innings this spring, this to left-handed hitting Prince Fielder.
Jay Gibbons, still trying to find his form, went 0 for 3 and is 1 for 12 in the early going.
Sidelights:
Benches cleared in the sixth inning of today's game, notes The Associated Press, over a Roman Colon fist pump.
Hiroki Kuroda worked on his endurance today in a 4 1/3-inning B-game outing, in which he struck out six while allowing three runs, writes Ken Gurnick of MLB.com.
Jerry Sands was among those who played a doubleheader of sorts today: RBI single in the B game, pinch-walk in the A game. Sellers also had an HBP in the B game.
Milwaukee has bigger things to worry about than today's loss: Newly acquired pitcher Zack Greinke is nursing a broken rib.
Would Frank McCourt sue Major League Baseball over being denied his recent attempt at a $200 million loan from Fox? Friend of Dodger Thoughts BHSportsGuy wonders in a guest post at True Blue L.A.
As Kim Ng noted this morning, Sandy Koufax visited Camelback Ranch today.
James Loney and Raymond Carver are connected by Jesse Gloyd at Buckshot Boogaloo.