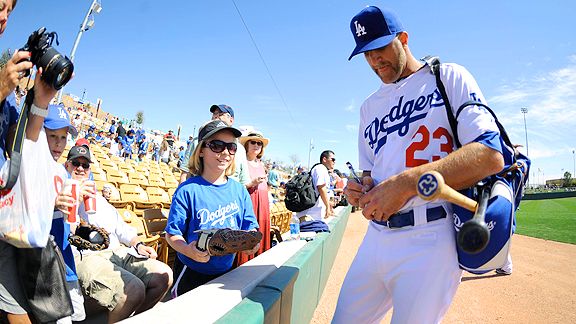 Christopher Hanewinckel/US PressiwreCasey Blake made no errors in this fan's eyes.
Highlights:
Clayton Kershaw maintained his 0.00 ERA, pitching 4 1/3 innings and allowing an unearned run on four hits and two walks.
Scott Elbert faced four batters in a shutout inning, walking one and striking out one.
Juan Uribe and Marcus Thames had doubles.
Lowlights:
Jonathan Broxton had a terrible, no-good, horrible, very bad day: homer by Jarrett Hoffpauir, single, single, hit batter, walk, exit. Tony Jackson of ESPNLosAngeles.com has details.
Casey Blake made errors on consecutive batters in the first inning and went 0 for 2, dropping to 1 for 13 this spring.
Carlos Monasterios gave up two runs pitching the ninth inning.
Dodger batters had five hits and no walks.
Dodger pitchers allowed 18 baserunners.
Sidelights: