Fifteen Dodger pitchers have Spring Training ERAs of 0.00, so it's not exactly a rare feat at this stage of 2010. But it's fair to tip one's hat to Ramon Ortiz, who has extended his scoreless string to nine innings (with seven baserunners and 11 strikeouts) after throwing four shutout frames today in the Dodgers' 4-0 victory over the Angels.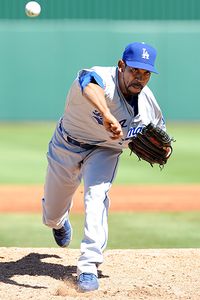 Lisa Blumenfeld/Getty Images
Ramon Ortiz allowed two baserunners in four innings today, while striking out five.
It doesn't mean that Ortiz will end 2010 a better pitcher than Scott Elbert, who had some soreness about as soon as Spring Training began and was optioned to the minors today with a 20.25 ERA. But it does mean that Ortiz has made himself a very real part of the No. 5 starter conversation, along with fellow 0.00ers Eric Stults, Russ Ortiz and Carlos Monasterios.
I emphasize the word "conversation" because we are still three weeks away from Opening Day, which means we're still at the talking stage as opposed to the decision stage. The Ortizii also operate at a disadvantage to Stults, Monasterios and Charlie Haeger, all of whom the Dodgers would lose if they're not on the April 5 roster. As I wrote last month, neither Ortiz (combined age: 73) has had a major-league ERA below 5.00 since 2004. So this isn't just a question of turning over a new leaf – did they upend the entire tree?
Predictably, there's all kinds of talk of Ramon Ortiz succeeding by adjusting to his limitations, as seen here in Tom Singer's MLB.com article this afternoon. Tony Jackson of ESPNLosAngeles.com reports that Ortiz benefited by learning  to throw a curveball in Japan in 2008.  I'm not ruling it all out – nor am I ruling out the possibility that Ortiz will leapfrog the others and earn a spot on the staff in April. I just happen to still have major doubts that we'll be waxing positive about Ortiz in September.
* * *
When Spring Training began, there were at least two spots on the pitching staff open for competition. But now there could be as many as five – if Ronald Belisario begins the year on the restricted list, if Hong-Chih Kuo begins the year on the disabled list and if the team goes with a 12-man staff. (At this point, my bets would be: yes, no, yes.)
There are at least 10 remaining candidates: Ortiz, Ortiz, Stults, Haeger, Monasterios, Jon Link, James McDonald, Josh Towers, Justin Miller and Jeff Weaver. Too soon to say what will happen, but the most intriguing decision might be whether McDonald will be in the Dodger bullpen or the Isotopes starting rotation, alongside Elbert.
* * *
Trayvon Robinson Saturday, Brian Cavazos-Galvez Sunday and Angelo Songco today – all hitting no-doubter home runs.  I can't remember a Spring Training when the Dodgers got homers in three consecutive games from players 22-and-under – two of them not even out of A ball yet. Fun.
Argenis Reyes, Brent Leach, Travis Schlichting and Ivan De Jesus, Jr. were sent to the minors this afternoon.
Doug Mientkiewicz has a .421 on-base percentage in Spring Training after going 2 for 3 today; Garret Anderson is at .400 (2 for 5 in two games).
There will be a memorial service for Willie Davis on Tuesday at Dodger Stadium, according to The Associated Press.
Now that "Sugar" is making the rounds on cable and DVD – Josh Wilker wrote about it today at Cardboard Gods – it's time for any of you who ignored my recommendation to see it to go see it already!
Update: What do Jamie McCourt and Leslie Knope have in common? The ambition to be President of the United States, according to Bill Shaikin of the Times.