The funny thing about Carlos Monasterios' emergence as a legitimate roster contender (based on his eight shutout innings this spring) is how little shock there is about it. It's like being tipped off about a surprise party.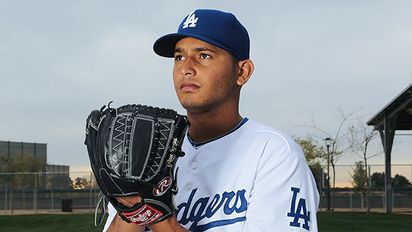 Jed Jacobsohn/Getty Images
With even less upper-level experience than Fernando Valenzuela had in the minors, Carlos Monasterios won't be a full-time starting pitcher in 2010 – but he could still contribute.
By now, we're all used to unexpected faces on the Opening Day roster, from well-known retreads like Wilson Alvarez  to out-of-nowheres like Takashi Saito. Ronald Belsiario's 2009 season removed the last vestige of shock-and-huh? from our consciousness. You never know who's going to be great, but throw enough arms out there, and you've got a good chance of finding someone.
Now, the Dodgers do make it look a lot easier than it really is – otherwise every team in baseball would have had Saitos and Belisarios in the past few years. It could be a remarkable run of luck, but why not give credit to the scouts for finding studs among the duds? After all, it was the same scout – Ron Rizzi – who recommended both Belisario last year and Monasterios this year.
Unlike some of the wild-card arms contending for a roster spot, Monasterios at least brings a strikeout pitch, fanning 7.6 batters per nine innings in the minors last season. But Monasterios, who turns 24 Sunday, has only thrown 183 2/3 innings the past two seasons and only 7 1/3 innings above A ball – he's got less experience than Fernando Valenzuela had in 1980 before his Dodger callup – so let's be clear. Under no circumstances is Carlos Monasterios going to grab a permanent spot in the Dodger starting rotation in 2010.
At best (underscore that, because it's still only March), you're talking spot starter and middle reliever. But that would still be a pretty impressive reward for a $50,000 acquisition fee. An unbelievable coup – yet par for the course for the Dodgers if it happens.
"He's got a nice presence out there," Dodger manager Joe Torre said of Monasterios. "He's got a really good off-speed pitch; he's very aggressive. I like what I see. He hasn't done anything wrong."
Eric Stults remains the leading candidate for the starting rotation based the Dodgers' inability to send him to the minors. Monasterios could be in a direct battle with Charlie Haeger for the final spot on the staff (or there could be room for both depending on what happens with Belisario or Hong-Chih Kuo), while pitchers like Ramon Ortiz begin the season in the minors, waiting for the first calamity.
"Stults and Haeger haven't done anything to hurt their chances," Torre said.
Belisario's DUI case has been resolved, according to Jim Peltz of the Times. Peltz talked to Belisario's lawyer J. Michael Flanagan, who said Belisario was fined $1,000 after charges against him were reduced to reckless driving. That should mean that Belisario's arrival in the States will be sooner rather than later, though everyone remains in wait-and-see-and-wonder mode.
As for Kuo, he had an encouragingly successful bullpen session, his first since before elbow pain made him a scratch in Sunday's Taiwan game, according to Ken Gurnick of MLB.com.
* * *
Last call for the Dodger Thoughts March Madness group. Password is "Kershaw."