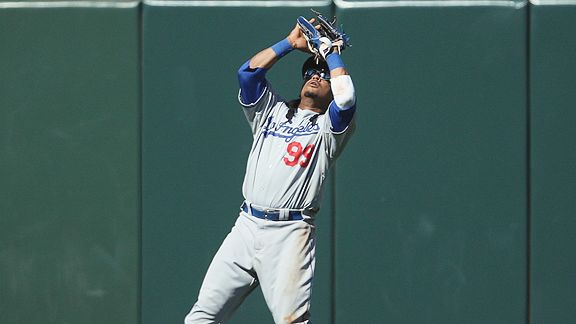 Brad Mangin/MLB Photos via Getty Images
Manny Ramirez catches a fly ball at San Francisco on Aug. 12.
Manny Ramirez gets his first start of 2010 in left field today. I hope he did more pregame stretching today than I did Sunday.
* * *
In his pregame chat with reporters, Dodger manager Joe Torre indicated he was comfortable with Jamey Carroll as the backup shortstop, which would free up the Chin-Lung Hu/Nick Green/whoever roster spot for someone else.
Torre also said the following about Blake DeWitt:
"He hasn't had the opportunity to turn a double play all spring. I'd like to see that happen. He seems to be fine, he's swinging the bat real well. He's not going to play second defensively as well as Hudson or Belliard, but he's not shy about going after the ball. He's a good kid and has a good feel for the game. "
Tony Jackson of ESPNLosAngeles.com predicts that Torre will soon name Clayton Kershaw the Dodgers' Opening Day starter. Jackson is doing a live chat at 12 noon.