Those of you who went to bed at a proper hour avoided a scare late Thursday: Vin Scully was hospitalized after a fall at his home. Word came relatively quickly, however, that it was not serious, though he was hospitalized as a precaution.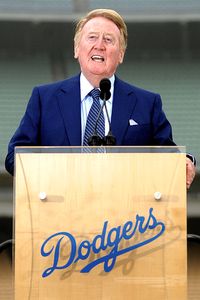 Chris Williams/Icon SMI
Vin Scully
The news is still unnerving for obvious reasons, and recalls the passing of legendary Lakers broadcaster Chick Hearn – unbelievably, more than seven years ago –  being precipitated by a couple of falls. Scully said in a statement that he is still planning to broadcast his first game of the year Sunday from Camelback Ranch.
"I just spoke with him," Dodger vice president of communications Josh Rawitch added at 11:30 p.m. last night, "and he told me that he was in bed this evening and simply got up too quickly and fell and bumped his head. For precautionary reasons, he went to the hospital and will stay overnight for observation but he fully expects to be at Camelback Ranch this weekend for the the telecast on Sunday."
Vin: Just don't rush it if you need the rest.
P.S. Assuming all is okay, Tom Hoffarth of the Daily News is hosting a Q&A with Scully, for which you can e-mail your questions now.