It was just another Spring Training game — well, one that featured a record Cactus League crowd of 13,391 and a busy four innings for Manny Ramirez — but no harm in noting that everyone was feeling positive about the progress of Dodger pitcher Chad Billingsley.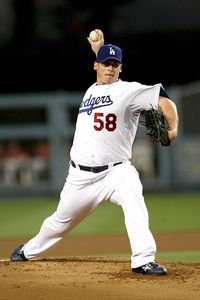 Stephen Dunn/Getty Images
Chad Billingsley retired his first 13 batters September 2 vs. Arizona, then allowed four runs.
"I thought he was very good," Dodger manager Joe Torre said after the game. "Close to 15 pitches an inning — that' s not too bad, you know, considering he walked the first guy. I was very, very pleased with his performance today."
Staked with a 75-pitch limit today, Billingsley stretched it to cover 4 2/3 innings, in which he struck out four and allowed one run on six baserunners.
"I worked on everything I needed to work on," Billingsley said. "Rhythm, tempo — everything felt a lot better out there today. Great sign. Curveball was a little off today, but as far as everything else, everything else was pretty good."
Ramirez more than made up for the lack of drama surrounding Billingsley's performance. At the plate, Ramirez hit a two-run homer and grounded into a double play. In his first game in left field of the season, Ramirez was reportedly slow on a ball that went for a second-inning ground-rule double by Chad Tracy, who scored the game's only run of Billingsley, but then Ramirez made a leaping catch at the wall in the fourth inning on a drive by Tyler Colvin.
Overall, Torre was also pleased with what he saw from Ramirez.
"Timing-wise, he's hitting line drives," Torre said, "and he's much more balanced than he was last year."
Jon Link got the final out in the fifth inning for Billingsley and the Dodgers. Charlie Haeger gave up a run in two innings, while Jeff Weaver pitched a shutout eighth. Backup outfielder Reed Johnson had a three-run homer late in the game, while Blake DeWitt and Garret Anderson each had two hits.
Update: Here's Ramirez's catch.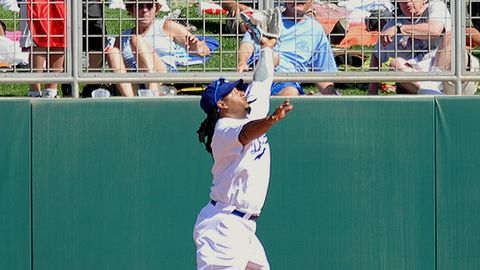 Courtesy Los Angeles Dodgers (via
Twitpic
)