Goodness, could it really be Russ Ortiz?
The name that is anathema to a rational choice for the Dodgers' pitching staff, Ortiz produced the coveted four-inning save today in the Dodgers' 8-4 split-squad victory over Milwaukee, allowing one run on four baserunners while striking out three.
He did so on a day that Carlos Monasterios faltered, giving up three runs in the first two of his four innings today in the other split-squad game, a 4-2 loss to the Angels.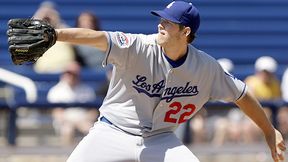 Paul Connors/AP
Clayton being Clayton: Kershaw had the same number of hits allowed and wild pitches Monday.
Monasterios still doesn't look like a pitcher the Dodgers want to let go of, but Ortiz again asserted himself in a battle for a roster spot. And since Monasterios is much more likely to be a reliever than a starter, it remains possible that Ortiz could be in the rotation despite his poor performance in recent years.
The contenders for the final three or four spots on the Dodger pitching staff: Monasterios, Ramon Ortiz, Russ Ortiz, Eric Stults, Charlie Haeger, Jeff Weaver and Josh Towers. Monasterios, Stults and Haeger are the three who cannot be sent to the minors, meaning that the others are probably battling for a single slot.
Meanwhile, poor fielding helped sabotage Clayton Kershaw's first inning against Milwaukee, but the young lefty ended up going a solid five innings, striking out six while allowing one earned run.
For the first time since July 18, there was a W next to Kershaw's name in a boxscore. And an S (not to be confused with Superman's) emblazoned on Ortiz.
Jamey Carroll went 3 for 4 with a walk, raising his Spring Training on-base percentage to .474.
* * *
If you are having commenting problems on Dodger Thoughts, please e-mail me with as many details as possible, including the nature of the problem, what kind of computer and browser you are using and when this was happening. Please type the words "Commenting problems" in the subject header of your e-mail.