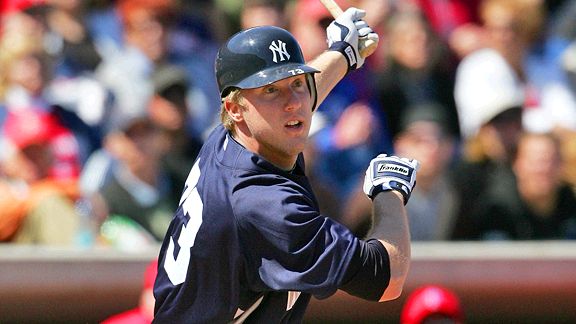 Cliff Welch/Icon SMI
Jamie Hoffmann was 3 for 23 with three walks for the Yankees this spring.
The Dodgers are like the island on "Lost" for Jamie Hoffmann, who can't seem to stay away no matter how often he leaves or how far he goes.
Designated for assignment last summer only to return, then taken by the Yankees in the Rule 5 draft in the winter, Hoffmann once again is a Dodger, according to multiple news reports, after failing to make the Yankee Opening Day roster and clearing waivers. Hoffmann figures now to start the season in the Dodger minor leagues, competing with Jason Repko for a midseason callup if neither is traded.
In other Dodger news, Russell Martin was hit by a Tim Corcoran pitch at practice this morning. Dodger manager Joe Torre said Martin's back and wrist were casualties, but there was "no damage."
Torre continued to show support for Charlie Haeger, among others — to the point where it almost seems a roster spot is being preserved for him.  "I have high regard for him," Torre said. "We probably wouldn't pitch him in Colorado, but I don't think anybody wants to pitch there. Arizona is different since it's indoors."
I'm a little surprised by Torre's affection for Haeger only because of how quickly he was buried last summer after that one bad inning in Cincinnati. Haeger allowed runs in only three of the 20 innings he commenced for the Dodgers last season.
Update: Ken Gurnick of MLB.com clarifies that Martin was hit not by one pitch but by three.  "It got a little too simulated," Torre said. "There was no damage. He was lucky on the one on the wrist. It was a little too uncomfortable to continue."
Gurnick also notes that the Dodgers released shortstop Angel Berroa.