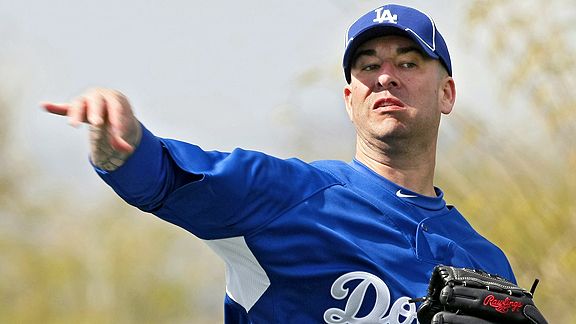 Mark Duncan/AP
Could Justin Miller make a surprise appearance on the Opening Day roster?
Here are 25 remaining Opening Day roster variables, in no particular order …
1) Hong-Chih Kuo: Arm is dangerous?
2) Russell Martin: All work leads to no play?
3) Ronald Belisario: Seeking writ of habeas corpus?
4) Eric Stults: Stays or goes?
5) Ramon Troncoso: Soft spring portends hard times?
6) Carlos Monasterios: Does he pass Go and collect $400,000?
7) Charlie Haeger: Knuckling under or over?
8) Justin Miller: Inky dinky do?
9) Blake DeWitt: Options work against him?
10) Luis Ayala: You don't have to go home, but you can't stay here?
11) Russ Ortiz: Still at the end of every hard-earned day people find some reason to believe?
12) Ramon Ortiz: First among Ortizii?
13) Josh Towers: From Taiwan, With Love?
14) Nick Green: I got well for this?
15) Brad Ausmus: Too old and infirm? "My body lies over the notion."
16) Chin-Lung Hu: Good enough to ride your bench?
17) A.J. Ellis: Waiting for Guh! D'oh!
18) Doug Mientkiewicz: Am I still a Torre fave?
19) Garret Anderson: Better late than never, or worse?
20) Chad Gaudin: Outside looking in?
21) Josh Lindblom: Young gun?
22) Ronnie Belliard: Weight, weight, don't tell me?
23) Jeff Weaver: What, last year wasn't good enough?
24) Vicente Padilla: Forearm stiffness?
25) Field: Will all the other roster locks stay healthy?